OFFICIAL: I Have My Ticket to See Repo! on July 18th!
CONFIRMED!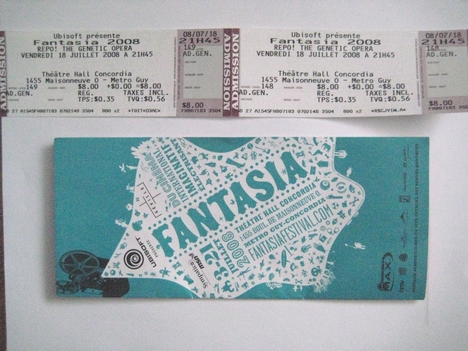 Yeyyyyyyyyyyyyyyyyyyyyyyyyyyyyyyyyyyyyy!
I bought two tickets to see "REPO! The Genetic Opera" on July 18th, exclusively in Montreal, at the Fantasia Festival! I waited two hours in line to buy these tickets. It was a huge lineup, and it was barely moving! Some hardcore horror movie fans were buying dozens of tickets for different movies. I was told that tickets for most movies will probably sell out in a few days. If you want to come to Montreal and buy your ticket, do it now. If you live in the US, I think you can buy it from Admission. I got the other ticket for a friend, but he's not a Paris fan lol.
So "nothing can stop" me now! On July 18th, I'm going to see Paris Hilton's greatest movie yet. Even the director of the movie, Darren Lynn Bousman, will be there to host the event and watch the movie with us!
I'm soooo relieved and happy! 🙂
And I'm one lucky bastard!
Posted: July 2nd, 2008
Comments: 7

From: kevin
Time: July 2, 2008, 3:27 pm
Oh eff you Enkil! You get all the damn luck 😛
From: admin
Time: July 2, 2008, 3:28 pm
Come here, Kevin!!!!!!!!!!!!!!!!!!!!!!!!!!!!!!!!
From: Sabrinia
Time: July 2, 2008, 4:11 pm
OMG I am so jealous! I'd love to see the movie 😀
From: Hiram
Time: July 2, 2008, 4:35 pm
wow that is great!!!!!!! seems repo! is coming closer, I cant wait to see it, if you have any chance to talk to Darren (which I think may be a little hard) could you ask if the movie is coming to Mexico anytime??? PLEASEEEEEEE there are thousands of people waiting for it…
anyway enjoy your night have fun and see Paris at her best!!! and see & hear Sarah 4 me too hehe shes just AWESOME
From: juju
Time: July 2, 2008, 5:57 pm
Congrats, friend, you deserve it
From: kevin benoit
Time: July 2, 2008, 9:22 pm
ooh hey me too i have it and bought it on the web at 1h02 pm for 2 tickets so dam cool dude!!
kevin
From: a person
Time: July 3, 2008, 6:09 pm
lmfao @ posts about yourself..this is a fansite for paris, not yourself. good for you, but seriously.