Subject: Paris Sued for Stealing Look!!!!
Original Poster: PARIS-HILTON-LOVER™
Posted on 7-11-2007 at 02:59 AM
Paris Hilton is being sued by a woman who claims the blonde socialite "stole" her look. The "Simple Life" star has been accused of causing "emotional distress" to fellow Californian Nicolle O'Neill, who fancies herself as an inspiration to the party-loving heiress.

In a bizarre personal injury complaint filed in Los Angeles Superior Court earlier this month, O'Neill alleges that she suffers psychologically because of Hilton and accuses the 26-year-old of ripping off her style, including fashion-related "patens" (sic) and "stiling" (sic) tips. Two pages of documents spell out specific charges against Hilton, including a claim that she stole O'Neill's idea to expose her underwear under her trousers. O'Neill also claims Paris swiped her idea to shop in vintage stores for retro dresses.

Hilton has yet to issue a response to the allegations.

PARIS-HILTON-LOVER™ has attached this image: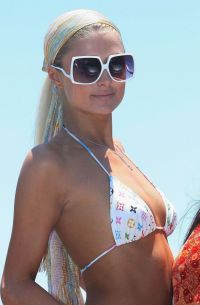 ---
Reply: kevinareblind
Posted on 7-11-2007 at 05:38 AM
OMFG THIS IS FUCKING BULL shit. WHOEVER THIS LADY IS, SHE IS CRACKED OUT AND DOES NOT KNOW WHAT SHE IS TALKING ABOUT.

WOOWOW, THEY ARE JUST ATTENTION SEEKERES AND THERE GOING TO LOOSE THE CASE!
---
Reply: Princess
Posted on 7-11-2007 at 07:17 PM
haha yeah right lol. Like paris needs to steal anything from others especially stlye. its crazy...we are the ones who steal her style not her!
---