Paris Hilton: A Biography (by Sandra Gurvis) coming out in January 2011
Another biography book about Paris Hilton is coming out in 2011. It is written by Sandra Gurvis, and it will be released on Amazon.com on January 31.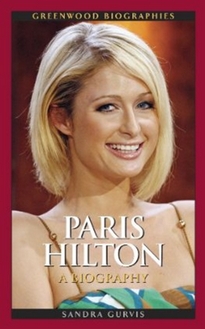 Description
This revealing portrait of the real Paris Hilton gets underneath the hype and hate, the glamour and greed.
Love her or hate her, Paris Hilton has made her mark on contemporary culture. She is both an enigma and a contradiction—a successful entrepreneur and a sexy yet vulnerable woman-child who flits from one tumultuous romance to another and searches on reality TV for that perfect BFF. But what is the truth behind the Hollywood veneer?
Unlike other biographies that range from the exposé to the gushing, Paris Hilton: A Biography is both detailed and objective. It covers Paris's checkered family history, her privileged yet surprisingly unassuming upbringing, and her explosion with sister Nicky as "It Girls" on the international social scene. Readers will learn how her family influenced her, why she made the decision to step into the limelight, and why she continues today, despite her many critics and setbacks.
Each chapter of the biography provides an in-depth view of a specific aspect of Paris's life: her relationship with men and the media, how she turned herself around emotionally and projected a new image, and what makes her such a smart businesswoman. The book also looks at darker moments, including the sex tape, her jail time, and her publicity faux pas. In the end, readers will understand what makes this complex young woman tick—and have a better sense of what it is like to walk a mile in her Manolo Blahniks.
Features
• Lists of movies, videos, television appearances, boyfriends, and products marketed and sold
• Photographs
Highlights
• Provides a definitive biography of Paris Hilton, fully referenced and researched
• Delves beneath the rumor and innuendo to uncover the basic reality and offer insight into Hilton's life
• Serves up an object lesson in developing one's own identity and overcoming adversity, helping readers learn from her successes—and her mistakes
• Draws from a wide variety of sources, including interviews, Hollywood insider reports, transcripts, books, magazine articles, and more
Posted: December 22nd, 2010
Comments: 7

From: admin
Time: December 22, 2010, 11:22 am
I'm going to try to get this book, and see how accurate it is!
From: Benji
Time: December 22, 2010, 2:10 pm
It sounds potentially quite good. And doesn't sound like a biased hate manual like House of Hilton.
From: scot
Time: December 22, 2010, 5:14 pm
I was going to buy House of Hilton once at the airport when I had a flight, but I didn't end up buying it. I've always been iffy when it comes to these biographies (there was another one that I considered buying. Can't remember the title… Living on the Edge or something?) because they aren't official. I wonder if we'll ever get one from Paris, herself?
Which ones have you guys read?
From: Benji
Time: December 23, 2010, 12:58 am
Well we got Confessiona of an Heiress scot! 😀 And if u wana really grasp at straws: Your Heiress Diary. Hehe
From: scot
Time: December 23, 2010, 6:46 am
Hahaha. Yes, I'm sure I'll look great with "Your Heiress Diary" next to my bed.
From: Benji
Time: December 23, 2010, 4:33 pm
I got 2 copies of the Heiress Diary, both fell apart so easily :/
From: JWB
Time: December 23, 2010, 9:56 pm
Books about Paris Hilton, are the most important books ever written! I hope this book explores her adolescent years, and tells us what really happened during that time. This would be most interesting.