Paris Hilton arrives at Beso Hollywood restaurant in California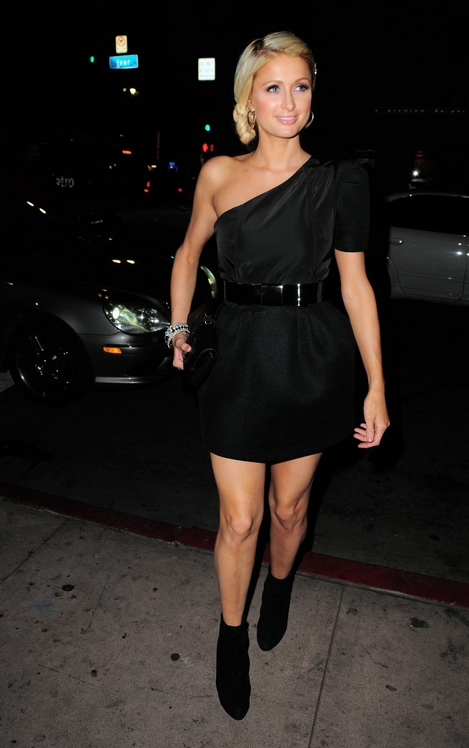 Posted: January 21st, 2011
Comments: 7

From: JWB
Time: January 21, 2011, 9:48 pm
Wow! There could not be a more beautiful woman.
From: scot
Time: January 22, 2011, 12:16 am
Paris has such lovely collarbones. Also, she just tweeted your "The World According to Paris" banner, admin. Paris must've been lurking the site (;
From: Hazim
Time: January 22, 2011, 12:05 pm
Cute Moon In the Black Dress meeeeeeeeeeeeeee
From: Hazim
Time: January 22, 2011, 12:08 pm
I dont no what I can say
From: admin
Time: January 22, 2011, 9:30 pm
Oh, maybe… I don't know if she still visits the site though. She could've easily gotten the banner from somewhere else. My stuffs usually get copied and spread out.
BTW scot, Kim is not recording a full album. So it looks like all she wants to do is release a single and a music video. And I think a portion of the proceeds from her single will go to charity.
From: Anonymous
Time: January 22, 2011, 11:19 pm
Oh really? Thank goodness for that. I might puke about the charity thing. That's almost crossing the line. Damn Kim and her do-gooder antics. If the single does well, I can't imagine she'd waste it. However, if it flops, she's already set it up so she can just shrug it off and recall how she was only doing it for fun. I still have my fingers crossed Paris gets an extra boost to really finish the album. For once, I'd just like Paris to shut Kim down. Y'know.
From: Jen
Time: January 24, 2011, 12:09 pm
There is enough room and to spare for everyone in the business.
People need to calm down.
I think Paris just lives her life and wishes good things for everyone.
Paris does not seem not overly competitive, she has always had more than enough and would not waste time on envy.
Look how positive she always is.