Paris Hilton At The Brenden Theatres In The Palms Casino Resort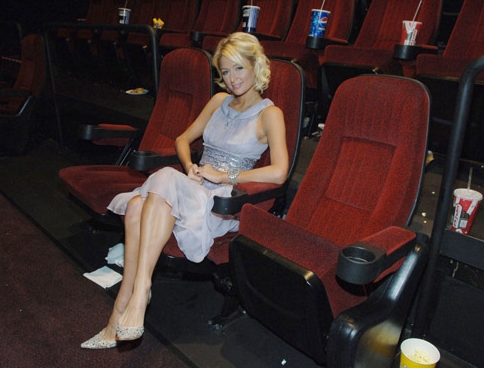 That's Paris Hilton at the Brenden Theatres in the Palms Casino Resort in Las Vegas on Sunday. She was there to watch her own movie "the Hottie and the Nottie."
Faded Youth Blog reported that "all the seats were empty except for Paris'." However, this is probably not true.
Anyway, say there were a few people there, what a pleasure it would've been to come and sit next to her and watch the movie. Imagine if all of us were there!
Oh Paris, if only the movie was showing here, I would have not waited one day to go and see it. Too bad all threaters are playing lousy movies that I don't even want to see!
Posted: February 18th, 2008
Comments: 3

From: Mat M.
Time: February 18, 2008, 1:34 pm
If Paris was alone there, whow do they know it? The writer and the popcorn guy must be probably very good friends.
Come on, even if there weren't enough people there at the beginning, I doubt some locals wouldn't take the opurtunity to watch a free movie with a celebrity.
From: James
Time: February 18, 2008, 3:50 pm
yea i think this is just her sense of humor 2 poke fun at the fact that not many people are seeing the movie. it's shameless of Paris and i think thats really good!
From: Jen
Time: February 22, 2008, 10:58 am
This photo must have been takn after the showing. Just look around at all the empty drinking cups, there obviously were people in attendance.
Some bloggers are plum crazy with hatred , yet they keep writing about Paris in order to get hits on their websites.
Talking about biting the hand that feeds them LOL.