Paris Hilton At The LA Premiere Of "The Hottie And The Nottie"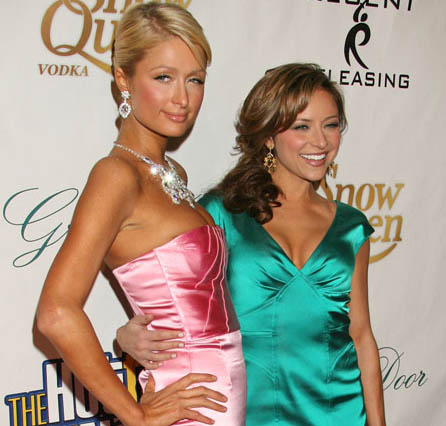 Yesturday, Paris Hilton was at the LA premiere of "the Hottie and the Nottie" with a couple of actresses and actors from the movie. Christine Lakin showed up, but I didn't see those two guys. Also, the kids were there, as well.
The director of the movie, Tom Putnam, had a few comments for Paris fans. He said that we will "[a] side of Paris Hilton we haven't seen before." I'm not sure what he's referring to, but sounds kewl!
As for casting Paris, he remarked: "We were very excited to put her in the film because everyone has an opinion about her, positive or negative. It's part of the fun of any movie, the discovery of what someone can do. Paris is somebody that everyone has an opinion about and as a director you can't ask for much more than that."
Surprisingly, Perez Hilton was also present at the event. He said: "Not everybody loves Paris Hilton, but everybody talks about her, we're fascinated by her. There's a sort of aspirational thing with Paris where you want to live her life for a day or two. Everyone would like to be rich and famous."
Hrm, those are not really the reasons why I like Paris. Then again, Perez Hilton is Perez Hilton, he's into all that celebrity lifestyle. The popular belief is that we're fascinated by her because of money and fame. This is probably true for "mild" fans, but maybe 10% or 20% of fans don't (or maybe, more and less) share Perez Hilton's opinion.
Anyhow, here's another interview that Paris and Christine did with MTV. It's somewhat bizarre and interesting at the end. The pre-interview part is interesting. Christine was discussing about US politics with Paris. She says she's going to vote for the Democrats, but in real life, I think there are no real differences between those two parties. They all pursue the same policies and ideas.
Next stop is Harvard University, Boston where Paris Hilton will accept the Woman of the Year awards. We'll see how that turns out, tomorrow.
Also, remember, tomorrow night, Paris Hilton will be the host of a nightclub called The Estate, as thewaymouth posted on the forum recently. They're celebrating their one year anniversary with Paris, just like Montreal nightclub Tribe Hyper Club did last year!
Posted: February 5th, 2008
Comments: 3

From: Dawn
Time: February 5, 2008, 9:56 pm
Paris looks gorgeous!
Just like princess Grace of Monacco
From: Sabrinia
Time: February 6, 2008, 11:15 am
It's really making me mad that on a few other sites they're making fun of Paris for not understanding politics or how the primaries run. They're saying it makes her an idiot. It does not. I just hate people's jealousy towards her. They just spew such vile and they're so quick to put her down. If it weren't jealous they'd just ignore her. I don't see how Paris puts up with all the negativity.
From: thewaymouth
Time: February 24, 2008, 5:50 pm
The interview w/MTV is great. Christine Lakin is smart & perceptive, yet so understanding, respectful and appreciative of Paris.
Christine gets it. & then some.