Paris Hilton attends the 6th Annual Kandyland event at the Playboy Mansion in Beverly Hills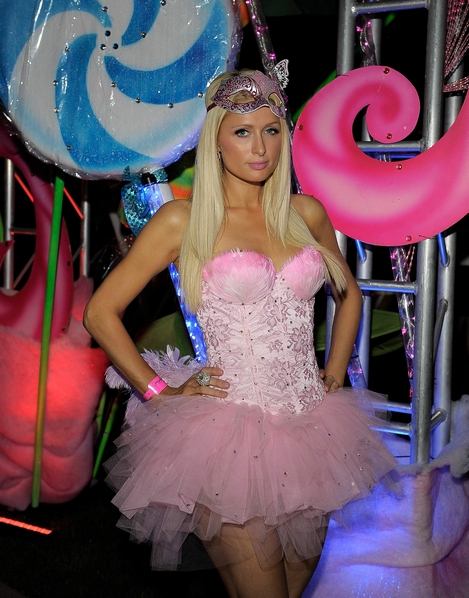 Posted: June 27th, 2011
Comments: 13

From: Kassidy Morrow
Time: June 28, 2011, 4:41 am
She's become a bit more Barbie since she split with Cy. The straight platinum blonde hair, the fun outfits, it's cute! She looks adorable in this pic.
From: Ulysses
Time: June 28, 2011, 8:34 am
Dear Paris, Surround yourself with beautiful things…
Ulysses from Guangzhou City, China
From: scot
Time: June 28, 2011, 5:39 pm
I think she looks like Heidi Montag here. Not the best. She should go a healthier and more natural looking shade of blonde. Perhaps shorter hair too. It's just been announced she officially has a billion dollar brand, she needs to up her image I believe. She could afford a top stylist to really bring in her style and completely revamp her image. The big fashion houses don't want to associate their brand with Paris' image right now which is why she doesn't wear the big designers like other famous folk. But she could put up a good fight and at the end of the day, money talks and we all know Paris has that. If Paris were to revamp her style, her fashion brand would also be taken a lot more seriously. Paris has been mentioning Victoria Beckham lately as someones style she admires. Look at the revamp Victoria has done with her style over the past few years and since launching her own high-end fashion line. I hope Paris steps her game up, she's beautiful but I think sometimes she cheapens her beauty with certain outfits.
From: admin
Time: June 28, 2011, 7:59 pm
Scot, I was the first one who revealed back in February that the PH fragrances alone, reached a billion dollars. =)
From: scot
Time: June 28, 2011, 8:04 pm
Really? I had no idea! I moved across Australia in Febuary and I wasn't online all that month so I must've missed it. I had no idea it had already reached 1 billion. I just saw when she tweeted the article yesterday and thought, how awesome. Awh I'm slow on the news
From: Dawn
Time: June 28, 2011, 8:49 pm
Paris looks great. This outfit was for the Kandyland theme party, not a business meeting.
There is nothing wrong with her hair.
Why do people always think they have a right to make her over, or to suggest changes?
Paris has a right to be herself, and she has become quite successful looking like she does and being who she is.
From: Dawn
Time: June 28, 2011, 8:51 pm
VARIETY magazine is featuring Paris and her success as a business woman.
From: scot
Time: June 29, 2011, 3:05 am
Ah thank you Admin. I had no idea the fragrances alone had reached the 1 billion mark. That's huge (no pun intended). I honestly didn't realise they sold THAT well. I knew they were doing amazing but that's really huge. Speaking of the fragrances, Paris mentioned on twitter about there being a tease ad? Did anyone see it?
And Dawn, I didn't mean it like that. I would never want Paris to be anyone but herself, but if she wants to be more business focused, she does have the beef her image up even more then she already has. People still see her as 2004-circa Paris and with a huge style evolution and gaining access to the more exclusive brands and designs, she would get more respect and be looked at differently by the media and people in the industry. Am I just digging myself into a deeper hole? Haha I don't know if I'm getting across what I mean
From: Jen
Time: June 29, 2011, 7:17 am
Paris is on the cover of Variety mag and featured as "The Billion dollar entrepreneur".
Great cover picture imo
From: T.K.
Time: June 29, 2011, 10:57 am
Actually, one of the things I like the most about Paris is how she keeps changing her hairstyle and her style in general.
Victoria Beckham has an amazing style, but she ends up looking always the same.
From: retrograde
Time: June 29, 2011, 11:45 am
Exactly. I love that Paris never wears the same thing twice, that she goes back and forth between simple/sophisticated and fun/colorful, and that she's always willing to try new things. She may not necessarily be a trendsetter, but she has a great and unique look.
From: scot
Time: June 29, 2011, 5:43 pm
My point was missed