Paris Hilton attends the Amfar Charity event at Cannes
Paris Hilton attended the amfAR Charity event at the 62nd Annual Cannes Film Festival.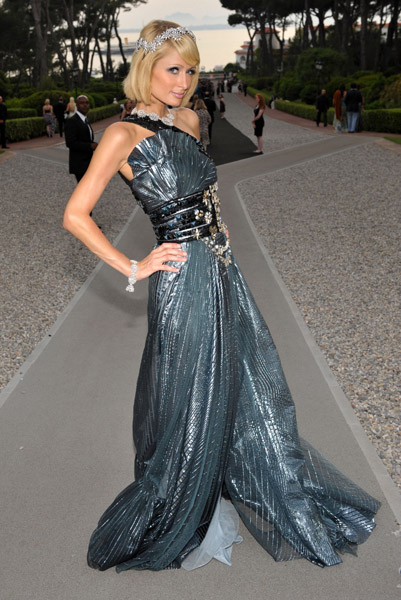 Posted: May 23rd, 2009
Comments: 7

From: Kassidy
Time: May 23, 2009, 9:45 pm
She looks FABULOUS! 😀
From: JWB
Time: May 24, 2009, 1:41 am
There is no event in the world that Paris Hilton is not invited to, this is historic, I think I know the reason.
From: Math M.
Time: May 24, 2009, 6:14 am
Hey guys, have you noticed that Paris' style has improved dramatically after she gave up on the 'dumb blonde' character?
From: Dawn
Time: May 24, 2009, 8:13 am
She looks very beautiful!
From: Benji
Time: May 24, 2009, 11:18 am
@ Math M, Paris & Nicole were told to dress like bimbos in the early seasons of The Simple Life, but if you watch the whole series, you can see both of their styles improved heaps by season 4.
From: Math M
Time: May 24, 2009, 4:46 pm
@ Benji,
Exactly. That's the time Paris started "rebelling" against the 'stupid blond heiress' image she portrayed in the past seasons.
From: juju
Time: May 27, 2009, 12:41 am
"like bimbos"
wow, meeeeeeeeeeeeeeooooooooooooow!
i found nothing wrong with their clothes in the simple life. they were younger then and wore different clothes so what?
it's called growing up. years change and so does style.