Paris Hilton Continues To Enjoy Her Summer Break In Malibu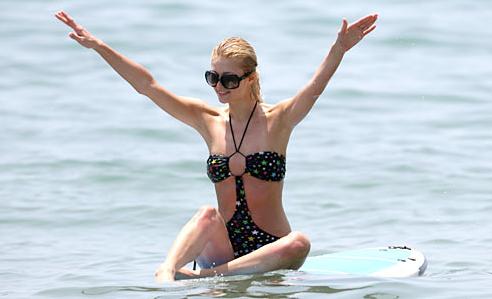 DESPITE a lack of swell and somewhat impractical swimming attire, Paris Hilton appeared to enjoy the casual surfing lesson she received from Sydney surfer and Bra Boy Koby Abberton at Malibu Beach in California.
Ben Cubby – smh.com.au
Posted: July 16th, 2007
Comments: 2

From: ec
Time: July 16, 2007, 11:04 am
Again, she needs to lose the sunglasses, unless they are sports glasses with some type of elastic strap on the back. Those things are going to fall off, and she might lose them in the water.
From: ec
Time: July 16, 2007, 11:06 am
It is cool that she is learning to surf. It seems like a lot of other celebrities are also learning how to surf. Can she stand up or does she just bodyboard.