Paris Hilton Continues Filming ParisBFF
…So later, Paris Hilton attended the American version of MTV Movie Awards back in the US. According to E!, at the after-party, Paris Hilton resumed filming scenes for her new reality show with her contestants.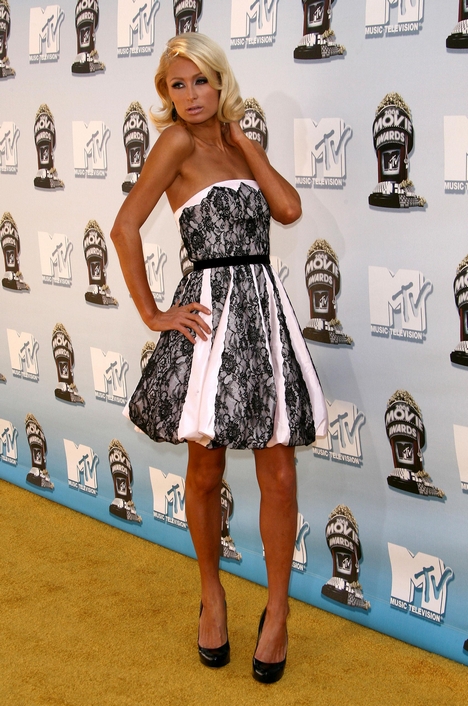 Posted: June 2nd, 2008
Comments: 12

From: PARIS HILTON LOVER™
Time: June 2, 2008, 4:26 pm
She looked so amazing!!!!
From: kevin
Time: June 2, 2008, 5:39 pm
DAMN SHE IS TAN!! I wish I was that tan! I've been tanning too!
She looked really good but that dress is so cliche! Even girls at my school wear Betsy Johnson dresses! I wish she would wear something from her clothing line!
So there is only 4 people left on her show?
From: admin
Time: June 2, 2008, 6:49 pm
kevin,
That's what I'm guessing, but maybe she grouped them, and each group is doing different activities.
From: Steven
Time: June 2, 2008, 7:39 pm
She just looks stunning as always, but she's too tan.
From: juju
Time: June 2, 2008, 9:29 pm
i actually love this dress as well. paris really can pull this look off because she is so exquisite. Love her hair as well.
I'm not sure she is that tan or maybe the picture is just dark. The "white' of her dress isn't really bright and crisp in this shot, so I'm thinking it might be the lighting. Don'tknow…any photographers out there with some input?
From: scot
Time: June 2, 2008, 11:02 pm
Everything here is stunning,
The hair, the dress, the shoes… everything.
The tan however,
this is not natural.
the lighting would have a little bit to do with it
but also photoshop.
yehh.
From: Kitty
Time: June 3, 2008, 1:24 am
She is beautiful , but to much tan…really not good …
From: Fi-Fi
Time: June 3, 2008, 3:01 am
why is everyone cussing her tan???
it's gorgeous!
i'd love mine to be like that!
also her hair/make-up= fabulisso
xoxoxo
From: thewaymouth
Time: June 3, 2008, 2:21 pm
Juju's right.
Just check the previous post w/Paris in the light blue dress. She's tan but doesn't look this tan.
There she was in the sun. Here's she's in the shade, so the lighting's darker, so she looks darker.
And I can understand why her fans are concerned about her tan. They're concerned about her long-term health.
From: thewaymouth
Time: June 3, 2008, 2:23 pm
PS She does look gorgeous.
Black is always the new black.
From: T.K.
Time: June 3, 2008, 2:53 pm
She looks just fabulous!
From: anonymous
Time: June 5, 2008, 5:39 pm
looks good