Paris Hilton Dinner With A Cause
L to R Bill Mosley, Alexa Vega co-stars in Repo:"The Genetic Opera" with  Paris Hilton and Oliver Geddes who hosted dinner at Easy & the 5th as well as Scott Larzerson from 'Playing for Good' the foundation that Paris will be heading to Rowanda to help bring awareness to.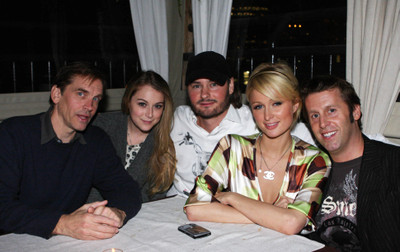 Posted: October 14th, 2007
Comments: 8

From: Django
Time: October 14, 2007, 1:27 pm
Nice picture and a good reminder of Paris's forthcoming Rwanda visit.
From: rachel
Time: October 14, 2007, 4:30 pm
She then went and hung with Kid Rock, Pam Anderson's ex-husband. Pam Anderson just married Rick Salomon, the guy from paris' sex tape. It's one thing to be humble and give people a chance, but she hangs with a shady crowd.
Kid Rock is a wannabe 70's hustler. Seriously, go to another bar, club, movie, or home, but Kid Rock? Yuck.
From: rachel
Time: October 14, 2007, 4:35 pm
Admin, I just clicked through the enewsbuzz link, what is enewsbuzz anyway? Is it a Canadian TMZ?
From: admin
Time: October 14, 2007, 4:57 pm
I'm not sure. It's a celebrity entertainment site.
From: rachel
Time: October 14, 2007, 5:35 pm
ok, thanks.
This seems to capture her clothing line symbol, angel or devil, perfectly. On the one hand, she's at a dinner for a cause. On the other hand, afterwards, she's hanging on the arm of a guy who has the bad fur coat, the beer, and the cigar, looking like a cartoon character or satire of a 70's pimp. It actually looks pretty funny. (Starsky and Hutch anyone. A white Huggy Bear.)
He just bragged about using two women from his video and how they were in a "catfight" over him. Yuck. They also hung out in Malibu together. And, oh yeah, his ex just married her sex tape partner. Extra yuck.
The good, the bad, and the hilariously stupid looking guy in the fur coat who had a hit record in the 90's.
From: Jen
Time: October 14, 2007, 7:28 pm
Geez.
Paris is in Canada to film a movie and she IS allowed to talk to aquaintances she runs into. It's not like she's dating Kid or marrying him.
Some people just like to jump to conclusions because they have a dirty mind.
From: david
Time: October 14, 2007, 7:41 pm
Jen, relax, I don't read anything in the previous comments that states that Rachel thinks they're dating or "getting married." Maybe you have the dirty mind?
Sometimes your acquaintances speak to who you are. That's how I read it, not that they were dating. Maybe Rachel meant that friends or whatever, why hang out with a sleaze like Kid Rock? A guy who brags about "using" women, who's two steps removed from your sex tape buddy and who looks like a National Lampoon's version of Huggy Bear. Seriously, real fur or not, the guy looks like a pimpclown. Can you imagine what he looks like in that getup without the hat (aka bald head)? yikes.
From: Jen
Time: October 14, 2007, 7:55 pm
If you look at the picture in question, Paris is NOT hanging on Kid. She seems to be standing next to him or behind him.
There are very few people in Hollywood whose lives are lily white, and you can't blame Paris for their mistakes.
If she stopped associating with everyone who has problems, there would be no one left to talk to LOL.