Paris Hilton donates to earthquake victims in Mexico
Reported by Metro UK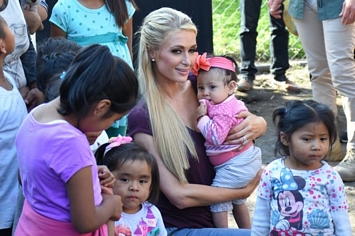 Paris Hilton called San Gregorio a 'second home' when she joined the relief efforts for earthquake victims in Mexico last November.
But she kept her promise to return, and swept through Xochimilco like a beautiful Santa Claus with bags full of her eponymous merchandise.
As well as making a whopping donation of $330,000 to the reconstruction of houses following the November 12, 2018 quake – measuring 7.5 – Paris delighted residents with warm hand shakes and hugs in the worst-affected areas.
The 37-year-old made the tour this September to verify the progress of rebuilding in the areas affected by the earthquake.
But pictures show the beauty handing out more than just material gifts, as she was seen warmly greeting the area's oldest and youngest residents.
Recently-engaged Paris – who's set to marry Chris Zylka in 2019 – hinted at her maternal side as she carried the infants and cuddled some young fans.
She was even seen planting a kiss on a pregnant woman's belly as she plans the arrival of her first child since the devastation.
The model also spent time with them unboxing some of the expensive gifts she donated to the community, including one of her 23 best-selling fragrances.
Paris has an eponymous merchandise empire – featuring fragrances, clothing, shoes, make-up and dog clothes – worth $3 billion (3.9 AUD).
But there was no expense spared when it came to bringing some joy to the 2017 earthquake victims.
Sharing pictures on Instagram later, Paris said: 'I had such an incredible time yesterday with all the children & their families at #Xochimilco.
'Such a rewarding experience to spend time with them & see the homes I donated to have built for them after the devastating earthquake.'
Last November, Paris visited the area affected to hand out shoes, clothing, food, toys, blankets and pillows to victims with a promise that she'd return.
She said: 'I know there are people who are suffering and going through hard times, so every time I return, I will do something to give back.'
Posted: November 14th, 2018
Comments: none