Paris Hilton Enjoying Hawaii
A bikini-clad Paris Hilton gets in a little alone time, striking a few poses and checking herself out with her makeup mirror on Friday in Hawaii.
The hotel heiress enjoyed some fun in the sun and spent several hours reading, "reflecting," and relaxing on her Hawaiian getaway.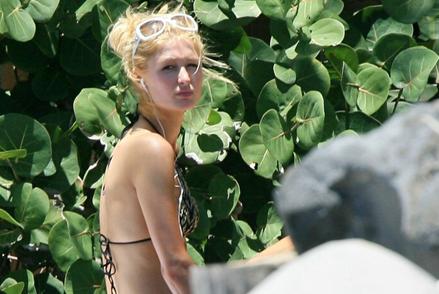 Are you listening to your own music, Paris? Turn It Up? Turn You On? Screwed? Hrm, probably not!
Enjoy your well-deserved break!
Just Jared
Posted: June 30th, 2007
Comments: 6

From: Anonymous
Time: July 1, 2007, 12:32 am
I don't know if she's listening to her music but I am and I like it.
From: andrejfromlatvia
Time: July 1, 2007, 1:01 am
She was a black hair or not,why she is blonde again ??? Love her very much…
From: Dan R
Time: July 1, 2007, 5:03 am
Its nice to see Our Girl decompressing and enjoying life. God knows its been a rough time for her!
But after having received all those letters in Jail, including a couple from me, she knows how loved she is, and that'll surely help her a lot.
From: Trevor
Time: July 1, 2007, 3:22 pm
Andre, it was a wig.
Glad to know she is enjoying her free time!!
From: f100
Time: July 1, 2007, 11:17 pm
I've been trying to figure out Paris Hilton ever since the time when she ran out of gas in her Bentley, but still can't quite understand her.
From: f100
Time: July 1, 2007, 11:18 pm
She's kind of a mysterious person. Her sister Nicky is more predictable.