Paris Hilton featured on Jill Kussmacher's reality show on German TV
Reported by Port01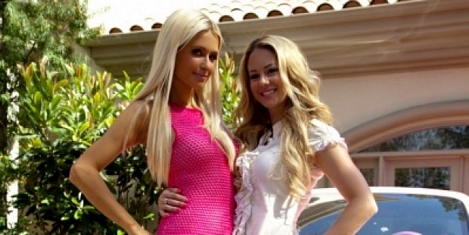 Audienz bei der It-Girl-Queen: Jill Kussmacher besucht Paris Hilton! Und als Königin darf man das Volk warten lassen. Anderthalb Stunden sitzt Jill nervös auf der Couch in Paris' "Wartezimmer" in Beverly Hills. Als Paris Hilton endlich den Raum betritt, verfliegt die Aufregung. "Paris ist supernett", stellt Jill fest. Die Businessfrau mit eigenem Würstchentruck ist begeistert von dem Markensortiment, das sich die Hotelerbin erarbeitet hat und stolz präsentiert. Jills Vision: Irgendwann will auch sie Make-Up und Accessoires, die ihren Namen zieren, in den Shopping-Regalen stehen sehen. Für Paris Hilton durchaus realistisch: "Sie ist ein hübsches Mädchen. Jill ist lieb, hat ein großes Herz und ist aufrichtig. Und sie scheint das wirklich zu wollen. Ich glaube an sie." Und Jill Kussmacher ist davon ohnehin überzeugt: "Jetzt starte ich voll durch und ich glaube, ich bin auch auf dem besten Weg!"
Dass Jill gerne Vollgas gibt, hat sie auch Kathy Hilton, Mutter von Paris, wenige Tage zuvor bewiesen. "Jill ist der Boss und Kathy räumt auf", kommentiert Manager Wolfgang Santner die Situation in der Hilton-Villa. Jill bedient sich ungefragt in der Küche und sorgt dafür, dass Kathy Hilton eine halbe Stunde lang ihren begehbaren Kleiderschrank aufräumt – nur weil die Kussmacher gerne mal einen Blick reinwerfen möchte! "Wenn ich an einem Ort bin und ich fühl' mich wohl, dann bin ich so wie ich bin", erklärt Jill. Die Berliner Natürlichkeit einer Jill Kussmacher und die amerikanische High-Society – passt das zusammen?
Posted: June 21st, 2012
Comments: 3

From: retrograde
Time: June 22, 2012, 6:05 am
EW is reporting that Paris's new single is called You & I (In the Summertime) featuring Snoop Dogg. They're calling it the song of the summer. I really hope this is true!
From: Elfi
Time: June 22, 2012, 11:55 am
maybe this jill-chic will make her finally open a paris hilton store in germany/austria!!
From: Jen
Time: June 22, 2012, 12:00 pm
Jill visits with Paris, the It-girl queen.
She had to wait for an hour and a half but once Paris arrived Jill says she is super nice.
As a business woman herself, she is enthusiastic about the many products the heiress sells and proudly shows her.
Jill has a vision of someday doing the same. Paris says something like Jill is pretty and sweet and believes she can do it too.
Jill is going full throttle and even gets Kathy Hilton to help clean up. Jill is the boss comments the manager.
But Jill also offers help in the kitchen without being asked to and helps Kathy in the walk-in closet because she wants to peek inside.
Feeling comfortable enough to be myself with them says Jill.
Can Jill's natural Berlin charm mix with American high society? asks the article.
It's a very nice write up, in my opinion.