Paris Hilton fragrance collection reaches the 1.5 billion dollar mark
Reported by NY Daily News / Edited by PHS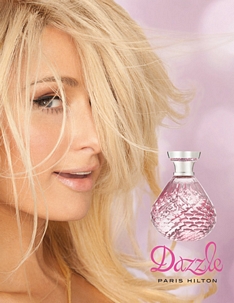 [Paris Hilton] has sold $1.5 billion dollars worth of perfume since 2004, according to Women's Wear Daily.
The 31 year-old socialite and former reality TV star is set to launch "Dazzle," her fifteenth fragrance created with scent marketer Parlux.
"What started out as just an interesting experiment became a real business very quickly," she said. "Every one of the scents I have done is still on the market somewhere."
While fellow billion-dollar blonde Jessica Simpson has eclipsed Hilton in the tabloids, she's made a similar mint by putting her name on products including watches, handbags and shoes.
Jennifer Lopez and Britney Spears have also generated more than a billion dollars at the perfume counter.
"I'm always looking for ways to expand by brand and would love to launch a beauty product line in the future," she said.
Posted: May 26th, 2012
Comments: 7

From: scot
Time: May 26, 2012, 11:26 pm
I love that photo. Does anyone have a link to a bigger one? Is her eye actually her natural colour?
From: Dawn
Time: May 27, 2012, 8:07 am
Paris does not need to be in the tabloids all the time in order to be successful and make real money.
She has actually eclipsed Jessica Simpson in the number of followers.
I also think that Paris is more successful financially than the kardashians. Remember, whatever $$ they make has to be split among all the family members on the show.
Paris has diversified in businesses instead, which in my opinion was the smarter way to go.
From: Carter
Time: May 27, 2012, 4:05 pm
is it just me, or is there just not enough news out about the upcoming single? shouldn't she be doing a promotional tour like she did with her last album?
From: admin
Time: May 27, 2012, 7:32 pm
Not enough news. She should do promotions when the single is out.
From: T.K.
Time: May 28, 2012, 7:59 am
Well, according to the rumours that tour will start in June with the Ryan Secreast show
From: retrograde
Time: May 28, 2012, 8:07 am
Paris did just retweet a link to that MTV article that mentions After Midnight as being her single, and that it's rumored to debut on June 5. Of course Paris has tweeted articles that had less than accurate information in the past, so it might not mean anything. On the other hand, it may be an indication that those rumors are true!
From: Dawn
Time: May 28, 2012, 8:20 am
My guess is that Brazil will be the real kick off.
She is getting enthusiastic tweets from others in the biz about her music, I think she will do very well.