Paris Hilton gives more details about The World According to Paris
Reported by BlackBookMag.com (edited by PHS)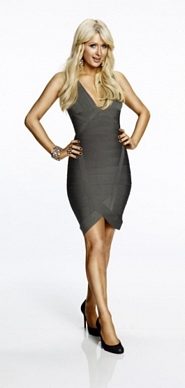 Paris Hilton made the press rounds today in L.A., to talk up her newest show, "The World According to Paris," which debuts this summer on Oxygen. "It's very Sex & The City in L.A. with a younger cast," Hilton tells us. "We do things girls love to do." So what do girls love to do? Talk intimately amongst their circle of friends and go out, naturally.
The World According To Paris has been filming Hilton and her closet gal pals all over L.A. nightclubs the past few months, hitting everywhere from Las Palmas to Boudoir. But the show is not all about nights out on the town, according to Hilton. "It's not all about clubbing. It's about my business life and what I do."
Hilton says the show will focus mainly on her life in L.A., but will also take off to exotic destinations when Paris has business dealings in places like Spain, Germany, Brazil and Las Vegas. "There's a lot of travel in the show that shows basically everything in my life," she added. "I have a lot of friends but I wanted top make it a smaller group of my most exciting friends. "
So who does Hilton think is "exciting" these days? There is Brooke Mueller, Charlie Sheen's wife and mother to his twin boys. Allison Melnick, a well-known nightlife fixture in L.A., Jennifer Rovero, who a press release says, graced the pages of Playboy," and, of course, Hilton's boyfriend Cy Waits, who she says also will appear on the show.
"Allison is such a character and she has so much life to her," Hilton said of Melnick. "She's hilarious and fun to be around." However, don't expect anything approximating the salacious headlines that seem to follow Hilton and Melnick wherever the duo goes. Instead, think intimate moments amongst close girlfriends. "There's a lot of private moments in the show where I say things to my best friends that no one has ever heard before," Hilton said Wednesday by phone. "I'm really just being myself which is something I've never really showed…whatever happens goes and there is no format."
Posted: January 13th, 2011
Comments: 3

From: Jen
Time: January 13, 2011, 5:32 pm
Looking forward to her new show!
From: LALA
Time: January 13, 2011, 5:44 pm
Break ups and new relationships are always fun to watch.
From: Benji
Time: January 14, 2011, 2:25 pm
It sounds like they're aiming to fill the shoes of The Hills, now that that is finished.