Paris Hilton interviewed by Fabulous Magazine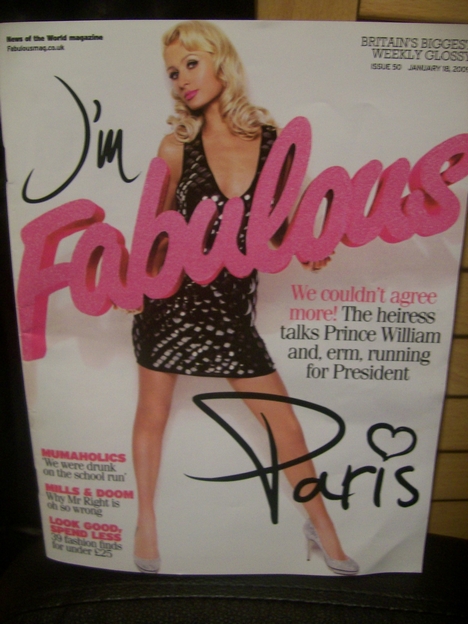 Fabulous Magazine confirmed that Paris Hilton's British Best Friend starts Thursday 29 January, 9pm, ITV2 (that's next week!).
Paris Hilton was interviewed by Fabulous Magazine. She's also on the front page of the latest issue.
I've posted a few parts of the interview, but I suggest you to go to Fabulous Magazine's website to read the full interview:
Halitosis or hideous dress sense are a given, but what other qualities would make you rule out a girl as your BBF?
I don't like it when people are liars or users – girls who are just trying to be my friend for the wrong reasons. I've had a lot of people in my past who were friends with me just to get publicity. When I was young, my mom or sister used to have to point out if someone was using me to make a name for themselves – you know, linking arms with me on the red carpet and trying to get in every picture. But now I can see for myself when someone is just hungry for attention.
I have this great test to see if a girl's a real friend. When we're shopping I'll pick out an outfit that I know looks hot and one that is awful. If my friend says the bad one looks good, I know she's not a good friend.
Who's your dream best friend?
I love Angelina Jolie. She's strong but gorgeous and uses her fame for good to make a big difference in the world. That's a great quality. I'd have a lot in common with her.
With a cracking figure like yours, we bet you exercise and eat healthily?
Thank you. I used to be good and do Pilates three times a week and run and cycle too. But now I just don't have time. And I eat everything, like fried foods, sodas, McDonald's. And Cadbury Flakes are my favourite chocolate. I buy hundreds every time I'm in London.
Thanks to Daniel for the pic!!
Posted: January 18th, 2009
Comments: 4

From: admin
Time: January 18, 2009, 11:11 pm
"Meh" interview!
From: PARIS HILTON LOVER™
Time: January 18, 2009, 11:17 pm
Who ever sells it I would buy it on ebay for sure!!!!
From: PARIS HILTON LOVER™
Time: January 18, 2009, 11:35 pm
Yes!!! Just Bought It!!! I F'in Love Ebay!
From: Dawn
Time: January 19, 2009, 8:36 pm
Paris's charitable projects should be mentioned more by magazines.
For example, she brought a check to Sundance for the Humane Society.
Paris has too much class to brag about what she does, so this aspect of her mostly goes unnoticed by the public. Unlike with Angelina.