Paris Hilton Is Coming To Montreal This Afternoon
Paris Hilton Visits Montreal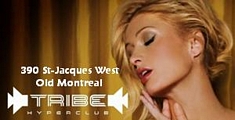 A new article was published by a Quebec news agency canoe.com about Paris Hilton visit to Montreal, but since it's written in French, I translated it for you.
The article says Paris Hilton will arrive in Montreal this afternoon at Pierre Trudeau airport with bodyguards and a couple of friends. It's the first time she's coming to Montreal to party.
Tribe Hyper Club signed a contract with Paris Hilton to make sure that she'll be there and will stay in the club for awhile. The club has arranged and is paying for her hotel stay and flight. Tonight, she'll be sleeping in a trendy hotel in Old Montreal.
More than 450 guests are expected to come. This includes many celebrities and Hockey players from Montreal Canadians.
Paris will walk on a red carpet in front of Tribe at around 11pm. There will be maximum security. Inside the club, she will stay in the VIP area.
"I have never a very popular star like this. All the shops have called us to give her gifts" says the marketing director of Tribe, Garo Tanousian.
Watch Paris Hilton's Arrival Live
If you can't make it tonight, Montreal.tv is proud to broadcast the event live from the club tonight.
The audio/video associated with this article is unavailable.
Posted: September 23rd, 2007
Comments: none