Paris Hilton jet skiing while on vacation in Ibiza, Spain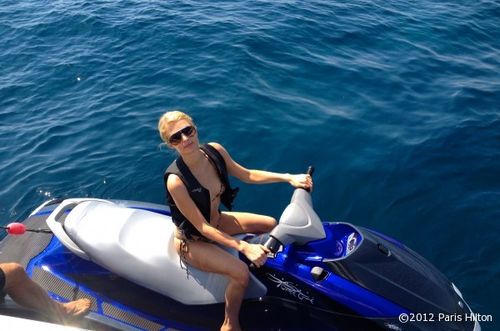 Posted: August 4th, 2012
Comments: 4

From: retrograde
Time: August 6, 2012, 5:43 pm
I see Paris is still on one of her trademark endless summer vacations. *sigh* It just seems wasteful to me. She's been in St. Tropez and Ibiza just chilling on beaches when she should have been releasing a single/album and doing promo for it. I mean, that's why she said she couldn't do RHOBH right? Because she would be doing music promo in Europe?
And yes, Dawn and Jennifer, before you two start, I know that this is her life and she can do whatever she wants blah blah blah. Doesn't mean I, as a fan of hers, can't be frustrated by this total lack of information regarding her album. If she doesn't want to do music anymore, that's fine. But she should just release the material she's made (because why not? It would be a waste not to) and then say she won't do anymore. That way her music fans can get some closure rather than just toyed with.
From: admin
Time: August 6, 2012, 7:30 pm
I am also bothered by the lack of news and projects. But there can be many reasons why things are the way they are.
As for the album, dunno what to say…
From: andrewstar
Time: August 7, 2012, 2:37 am
Ok maybe few fans of Paris are not fans of her just because of the music,but most of them they are. I think she should say something about the album wich obviously its not gonna be out this summer and i think never. Very bad Paris…
From: JWB.
Time: August 7, 2012, 2:52 am
Lets face it guys, the best thing Paris can do for us 'hetros', is go to the beach, and take her clothes off. I don't need her to sing.