Paris Hilton launches a new Passport fragrance "St. Moritz"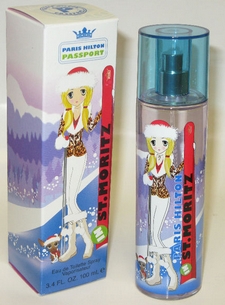 Paris Hilton has introduced a new women's fragrance, St. Moritz, to the Passport collection, which is inspired by travels around the world. The new fragrance is named after one of the most famous ski resorts, St. Moritz. This is the fourth edition of the collection after the launch of Paris, South Beach and Tokyo.
The crisp atmosphere and snow covered mountains of this scent are represented by notes of frosted bergamot, pear liqueur and white peony.


Posted: November 20th, 2011
Comments: 2

From: scot
Time: November 21, 2011, 2:56 am
The characters on these passport fragrances, are they drawn by Paris? I always assumed that chihuahua silhouette Paris has on some tshirts was drawn by her. They're cute
From: Benji
Time: November 21, 2011, 3:57 pm
It does look like her artwork! You sometimes see her drawing in "Simple Life" as well. Very cute!