Paris Hilton to launch new fragrance "Passport" (Paris, South Beach and Tokyo)
Paris Hilton will launch her latest perfume Passport this year. The Paris Hilton Passport will be a collection of three new fragrances: Paris, South Beach and Tokyo. It is said that the new fragrance will reflect her jet-set life and her travels around the world.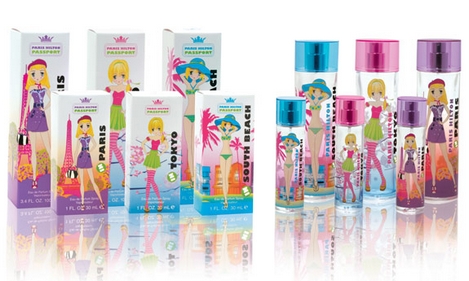 Passport Paris

Top Notes
Mandarin
Red berries
Golden peach

Middle Notes
Golden peach
Honeysuckle
Purple peony

Base Notes
Vanilla
Amber
Patchouli
White musk

Passport South Beach

Top Notes
Nectarine
Lotus
White freesia

Middle Notes
Osmanthus
Marigold
Jasmine

Base Notes
Sandalwood
Musk
Blonde woods

Passport Tokyo

Top Notes
Lemon
Red apple

Middle Notes
Frangipani
Iris
Orange blossom
Jasmine

Base Notes
Golden cedar
Clear musk
Sandalwood
Posted: January 10th, 2011
Comments: 6

From: scot
Time: January 10, 2011, 8:26 pm
I'll wait for the Gwen Stefani/L.A.M.B comparisons. They're very cute. I guess.. she's going for the tween crowd. Fun and playful, super kawaii etc
given your clue, the next announcement may be about her reality show? Hmmmmmmmm
From: admin
Time: January 10, 2011, 8:31 pm
Yeah, I heard about that Gwen Stefani comparison. Shall we now accuse Paris of copying Gwen. 😛
Nope, not about the show
From: Jake
Time: January 10, 2011, 8:42 pm
about the album perhaps? haha yea like thats ever going to happen lol
From: Kassidy Morrow
Time: January 10, 2011, 8:59 pm
Those are so cute 🙂 I remember her telling me about this a few months ago!
From: P
Time: January 11, 2011, 4:14 am
i'm not crazy about the bottles, it looks a little childish, but hope they smell good =)
From: Jen
Time: January 11, 2011, 10:05 am
I'll buy them all !!
Paris Hilton's colognes are always long-lasting and a bit different from everyone else.
Her fragrances can compete with any 5th Ave cologne.