Paris Hilton Out With Alex Guy For A Dinner
So…? Is there something going on between these two, or they just happen to be great friends? I think the latter explanation makes most sense, at the moment.
Some fans on other websites were saying that Alex is getting paid to hang out with Paris Hilton. Maybe, maybe, but I don't think so. What do you think? It just seems that nothing interesting is happening between these two.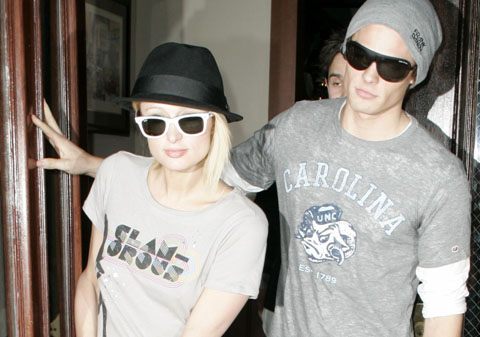 Posted: December 23rd, 2007
Comments: 9

From: AND_LV
Time: December 23, 2007, 11:28 pm
They are look good together , But it's all looks not naturally…they touch to each other – without desire… I don't see pasion or love in they eyes…
– I wish to all happynies and marry christmas !
From: Django
Time: December 24, 2007, 3:09 am
As if Paris would have to pay people to hang out with her! I'm glad I don't visit these other websites as they couldn't pay me to read their jealous garbage!
Merry Paris-mas (or Happy Saturnalia if you're traditionalist).
From: CC
Time: December 24, 2007, 3:27 am
IT'S ALL FAKE. GO TO SPLASH NEWS ONLINE, THEY HAVE PICS OF ALEX WITH ANOTHER GIRL (NOT PARIS) BEFORE HE MET UP WITH PARIS. THEY SAY HE WENT LUNCH THIS OTHER GIRL AND THEN TO THE HOTEL WHEN THEY SAW THE PAPS.
From: CC
Time: December 24, 2007, 3:29 am
HERE'S THE LINK http://www.splashnewsonline.com/2007/12/23/is-alex-cheating-on-paris/
Paris Hilton's 'boyfriend' Alexander Vaggo was spotted having a lunch date with a mysterious blonde (ie not Paris) at The Newsroom in LA.
Normally one would take this as two friends having lunch, but the sequence of events which followed make me question Alex's true motives.
First they are both eating lunch with their shades on – I mean what normal person does that, plus how can you really tell if your lettuce is fresh, if you're clouded by a dark mist. Secondly when their cover was blown thanks to the Hills stars Lauren Conrad, Whitney Port and their entourage of photographers, the couple split and Alex came out to lure the togs to a Starbucks while his mystery female got away. And thirdly and most importantly Alex later met with his mystery date in a parking garage before leaving together, going to the Roosevelt Hotel.
Now I don't know about you, but I smell something fishy.
From: Dawn
Time: December 24, 2007, 6:18 am
They're both single and can see whosoever they want.
Why does the press think they are owed any explanations about their private lives.
From: Kevin
Time: December 24, 2007, 6:11 pm
Wow Enkil, Hahah I work at a Quiznos sub and every month we get a CD with about 50 songs we HAVE to play. It's pre-put on songs and we have no word in what goes on.
Guess what song is on our new one?
NOTHING IN THIS WORLD!!!! When it came on I screamed and dropped when I was doing and started dancing! hehehe, loves it!
From: admin
Time: December 24, 2007, 7:33 pm
Kevin,
That's great!!! You should play the song often, especially when there are a lot of people around. lol
From: Django
Time: December 25, 2007, 3:42 am
Kevin, that is great 😀 Even though it's too late to make it the single a big hit, I'd love to see this song become far more exposed (and hey, Blondie's One Way Or Another has soared in popularity long after the original release – it wasn't even a single in the UK but is probably one of their best known songs now).
I always want to put Paris on when I find her on the jukebox, unfortunately it always tends to be those dumb touchscreen ones that I can never use properly.
From: juju
Time: December 27, 2007, 9:27 pm
still paris is just friends with him. i don't think she's stupid enough to even make it with benefits, he'll definitley kiss and tell when he needs cash, he'll run to the tabloids again!