Paris Hilton promotes her Sunglass line at the Sands Expo and Convention Center in Las Vegas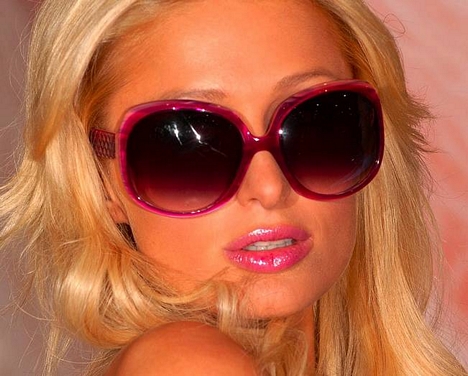 Written by LasVegasSun.com / Heavily edited by PHS
Paris Hilton was at the Sands Expo and Convention Center to promote her new line of sunglasses at the International Vision Expo.
"I'm very excited to be here at the Expo for the sunglasses and we're having a huge fashion show tonight at the Hard Rock Hotel by the pool and big parties all weekend for it," Paris said.
She will join a collection of equally slender and beautiful women on the catwalk this evening and take part in a fashion showcase of not only her sunglasses, but her signature brand clothing, swimwear, shoes, purses and accessories.
"I have 16 different brands," she said. "I do it everything, I do sunglasses, clothes, lingerie, purses, shoes, hair extensions, hair products, … I do bed sheets, I do scrap-booking, I do everything."
"Right now I'm just finishing my new album and starting to produce some TV shows and starting the new show, and (I'm about to) start another movie," she added. "I'm very busy,"
Her most recent venture is the result of a partnership with Gripping Eyewear.
"It's very exciting, I've always loved wearing sunglasses since I was a little girl so it's exciting to extend my brand even more and add sunglasses to it," she said.
The colorful line of shades includes several large designs that evoke thoughts of a former first lady's style, but with a fresh, modern twist.
In addition to Jackie Onassis, Hilton said she is inspired by "people and myself."
"I go to runway shows in Paris and travel all around the world and to San Tropez and everywhere and see the women in Europe and their kind of style and (I'm) kind of inspired by that," she said.
The sunglasses, which will retail for less that $100, will available in stores in March.
"They're going to be very affordable," Hilton said, adding, "I wear them all the time."
In addition to this afternoon's appearance at the Vision Expo and the poolside fashion show at the Hard Rock tonight, Hilton will also host the Saturday night party at Body English on Saturday.
Hilton said the appearances are her way of mixing business with pleasure.
"I have a deal with the Hard Rock so I do a certain amount of parties there a year," she explained. "It's my favorite hotel, I love Body English and I love the rooms there."
"I'm good friends with the owners and I just have the best time there," she said.
The blonde ambition is a big fan of Sin City.
"I try to come here at least once a month," she said. "It's just so much fun and, I don't know, I just love the energy here and have the best time."
"I just love Vegas," she smiled. "It's like Disneyland for kids – no, for not kids, for adults."
Posted: October 2nd, 2009
Comments: 2

From: Kevin
Time: October 3, 2009, 1:32 pm
"Right now I'm just finishing my new album"
*throws hands in the air* YAYAYAY!
From: :jonathon:
Time: October 6, 2009, 6:11 am
Paris almost looks more like Natalie Reid in this picture.