Paris Hilton Promoting Her Clothing Line At Kitson, LA
Paris Hilton is still in California! Apparently, she was at Kitson, promoting her new clothing range. According to Osoblog, Paris was modeling and posing with fans. I can't confirm if this event took place recently, though.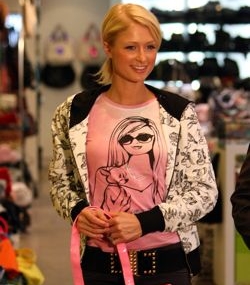 Posted: April 29th, 2008
Comments: 3

From: anonymous
Time: April 29, 2008, 4:14 pm
she was also there to promote a cure for multiple sclerosis. her and nicky are part of a fundraiser for Race to erase ms.
From: kevin
Time: April 29, 2008, 10:13 pm
Glad to see she's still promoting her line and not forgeting about ANY of her products (except for music *rolls eyes*)
I got my friend that jacket she's wearing for Christmas. She loves it 🙂
From: juju
Time: May 1, 2008, 1:54 am
what a cute top! i rememb erher aunt kyle saying MS was a disease that runs in thier family….