Paris Hilton Raising Awareness For Multiple Schlerosis
Paris Hilton was out raising awareness for one of the charity causes she works for, Multiple Schlerosis. She was photographed wearing a T-shirt from the Nancy Davis Foundation to help raise awareness and money For Multiple Schlerosis. Outside Kitson, she was "promoting an auction consisting of a $500 gift certificate plus four autographed items from Paris' clothing line."
According to the organization's website, "Multiple sclerosis is a disease of the central nervous system (brain and spinal cord) in which the insulating protective covering (myelin sheath) surrounding the nerves is destroyed or damaged, resulting in interference with the brain's signals to various parts of the body." The Nancy Davis Foundation for Multiple Sclerosis is dedicated to the treatment and ultimate cure of Multiple Sclerosis.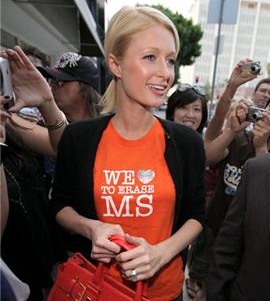 Due to my busy schedule, I haven't replied to many emails, but I will by the end of this week.
Posted: April 29th, 2008
Comments: 3

From: kevin
Time: April 29, 2008, 10:10 pm
Yay! I saw this on perez! I remember her talking about how much MS means to her.
ONE MORE WEEK UNTIL TH&TN ON DVD! MAKE SURE TO GET YOUR COPY EVERYONE!
From: juju
Time: May 1, 2008, 10:12 pm
kevin,
i'll buy a copy to support our girl!