Paris Hilton reflects on her past in an interview with Los Angeles Times
Reported by Los Angeles Times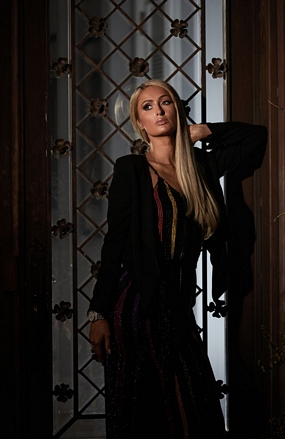 You could easily label this the decade of the influencer, those YouTube and Instagram stars who make money by selling FaceTuned versions of themselves while hawking face creams, fashion collaborations, protein powder and how-to-improve-your-life seminars. Through their social media posts, they convince thousands or millions of fans and admirers to like what they like and want what they want.
But is all that glitters on the 'Gram and elsewhere really gold? For answers, I turn to the woman who will likely go down in history for putting the "i" in influencer, and that would be Paris Hilton, the eldest daughter of real-estate developer Richard Hilton, and his socialite wife, Kathy.
I visit Hilton at her Beverly Hills home on a quiet, unassuming street last month. Despite having been robbed by the Bling Ring thieves and enduring years of public scrutiny, Hilton, I notice, has left the modern home's bronze wrought-iron gate wide open, welcoming a revolving door of guests that include a photographer, publicist and large film crew.
Although she was born into the wealthy family behind the Hilton Hotel empire, the 38-year-old became a household name about 15 years ago thanks to her role on one of TV's first reality shows, "The Simple Life."
Seated on a metallic couch in her home theater, Hilton is wearing her signature look — one fans have come to know well: a pink velour Juicy Couture jumpsuit with Nike sneakers. Inside the room, there's a decorative pillow with the words "In Fashion We Trust" and another one that has cherubs covered in sunglasses and tattoos.
Otherwise, the space is barren. It has an emptiness to it. Perhaps that's because Hilton only spends a handful of days per year in Los Angeles. Or maybe she's more likely to entertain in her two-story home's living room, which feels like the lobby of an upscale hotel complete with an image of Marilyn Monroe blowing a bubble by artist Michael Moebius; a Louis Vuitton steamer trunk; large-scale photographs of Hilton; a neon sign that reads: "Life is Beautiful"; and a lineup of colorful gnomes sticking up their middle fingers.
Rest the rest of the article here.
Posted: December 5th, 2019
Comments: none