Paris Hilton release Gold Rush Man fragrance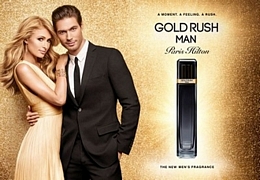 Fresh off the heels of the successful GOLD RUSH PARIS HILTON introduced in 2016, Paris Hilton announces the newest addition to her celebrated fragrance portfolio, GOLD RUSH MAN PARIS HILTON. The debut of the men's fragrance in February 2017 marks the 21st fragrance to be released from Hilton's illustrious fragrance empire.
Conceived as the male counterpart to GOLD RUSH, the inspiration behind GOLD RUSH MAN echoes that of its feminine companion. Drawing on the rush of excitement felt during a chance encounter or when meeting someone new for the first time, the charismatic fragrance opens with a vibrant rush of exotic notes evoking a sensual golden warmth and bold masculinity.
"The launch of GOLD RUSH was a major milestone for me as it represents a new direction and sophistication for my fragrance collection," said Hilton. "I wanted men to enjoy the essence of GOLD RUSH's captivating scent for themselves."
THE FRAGRANCE
GOLD RUSH MAN opens with an energetic blend of exotic bergamot, juicy mandarin, and spicy cardamom. The freshness of the mid notes evolves to a sensual balance of Aromatic Lavender, Warm Sage, and Geranium. Finally, dry, smoky Tonka Wood leads seamlessly into a sweet and earthy base of luminous Amber and creamy Vanilla, creating a lasting impression for a smooth, irresistible scent that envelops the skin like liquid gold.
The Oriental-Fruity fragrance was created by Harry Fremont, Master Perfumer at Firmenich.
"The fragrance begins with a blend of crisp Citrus and cool Spice combined with the aromatic freshness of Lavender and Sage creating an exhilarating rush," said Fremont. "The freshness is contrasted with the warm golden richness of Amber, Smoky Tonka Wood and Vanilla for a sensuous masculinity."
THE PACKAGING
The masculine yet sleek design of the GOLD RUSH MAN bottle is the perfect accompaniment to its soul mate, GOLD RUSH WOMAN. The custom bottle is modern and bold, the perfect statement for every man's style. Remaining true to the aesthetic reflected at the core of the GOLD RUSH collection, the GOLD RUSH MAN packaging reflects a masculine interpretation of old Hollywood glamour.
THE CAMPAIGN
Lensed by photographer, Victor Demarchelier, the campaign further illustrates the GOLD RUSH collection's narrative, capturing Hilton and her alluring male counterpart, symbolizing the ultimate Hollywood glamour couple.
GOLD RUSH MAN PARIS HILTON Eau de Toilette 3.4 oz ($55.00) is available now exclusively on Perfumania.com and in Perfumania stores nationwide beginning February 15, 2017.
Posted: February 8th, 2017
Comments: none