Paris Hilton To Join Bullrun 2007 In Montreal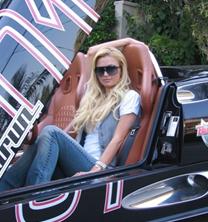 Paris Hilton is going to be driving very fast! Notify the authorities!
Ms. Hilton was spotted driving a brand new Spyker C8 Spyder, a gift from Bullrun 2007 — which the DUI heiress will drive in an invite-only, week-long, cross-country road race from Montreal to Key West. Look out!
The Bullrun's site calls the race "An unforgettable adventure, where, the only obligatory goals are to party, drive and enjoy …an epic eight-day rolling party." Yep, sounds like they've got their girl!
The audio/video associated with this article is unavailable.
TMZ
Wow, is this article from TMZ really true? Paris is going to drive from Montreal to Key West, or are they just playing with her? If Paris is coming to Montreal, that would be huge news! Montreal is Canada's second biggest city!
I'll trying to get more information about this, but I think TMZ is just joking.
UPDATE: Bullrun.com is reporting that Paris Hilton has accepted the offer and will drive from Montreal to Key West. However, they don't say if she's coming to Montreal. But she's going to participate in the event.
Ok, so here's the deal, the blonde beauty the planet knows as Paris Hilton has just confirmed entrance into Bullrun 2007 – Montreal to Key West. From what we've seen she'll be piloting a brand new Spyker. Not to shabby Ms. Hilton… not to shabby at all…
Question is will Paris be able to drop the hammer when the times comes… we'll see in just over 2 weeks!
bullrun.com
Posted: April 27th, 2007
Comments: none