Paris Hilton to release new fragrance "Dazzle" in June
Paris Hilton will launch her new fragrance titled "Dazzle" on June 1st. Dazzle is for women who are 15 and above. It will be released on a worldwide scale.
"Give me a chance to color my world and I will color it a sweet, pretty and playful pink! Dazzle is as brilliant and feminine as a coveted gem. This sensual fruity floral alluringly expresses a woman's whimsical side, revealing her inner beauty, her special dazzle and her unique charm." – Paris Hilton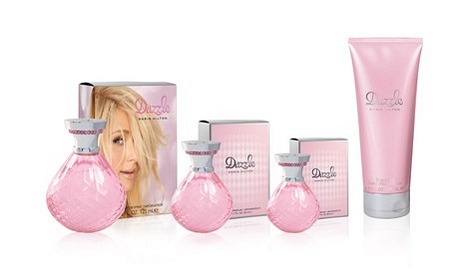 Posted: April 28th, 2012
Comments: 3

From: casey
Time: April 29, 2012, 1:35 am
I'm in love the packaging. Paris is a genius at fragrance making. I can't wait to smell this one!
From: admin
Time: April 29, 2012, 10:29 am
BTW, this will be her 15th fragrance!
From: Dawn
Time: April 30, 2012, 8:41 am
Paris is in New York.
Also, Nicky is dating banking heir James Rothschild, they met at the Ecclestone wedding last summer and have been together ever since (from the British branch of the famous banking family).
It makes me happy to see Paris and Nicky happy.