Paris Hilton tries to settle lawsuit with LeBonitas
Reported by NY Daily News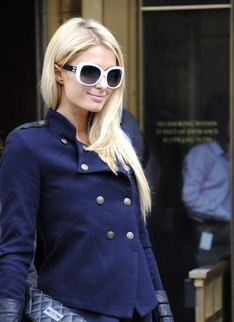 "I love this judge. He's so old," [Paris] Hilton, 31, was overheard telling her legal team as she waited to meet with 78-year-old Judge Alvin Hellerstein, who ordered her and Italian lingerie manufacturer LeBonitas to settle their dueling lawsuits.
When she emerged from Hellerstein's Manhattan chambers, Hilton was chatty and buoyant.
"It's looking good. I'm happy as of today," she said, declining to reveal if a settlement was imminent.
Hilton sued LeBonitas more than a year ago for $1.5 million, charging it breached a contract by not promoting a line of undergarments she lent her name to. LeBonitas countersued, blaming the failed dealings on an uncooperative Hilton.
"I have 17 product lines," Hilton told reporters, as if looking for an excuse.
Posted: June 5th, 2012
Comments: 4

From: Jen
Time: June 5, 2012, 6:43 pm
Overheard by whom???
I don't believe for one minute that Paris actually made such a comment about the judge's age.
From: Jen
Time: June 5, 2012, 6:48 pm
This is another example of sloppy and negative journalism, conveniently jumbling the facts.
Note how this article is written up.
From: JWB.
Time: June 6, 2012, 8:36 am
But, no matter, what Paris said, the judge would have fallen for her!
From: casey
Time: June 6, 2012, 3:34 pm
he probably was old. Maybe she was just stating a fact.