Paris Hilton visits the Children's Hospital before attending Churchill Downs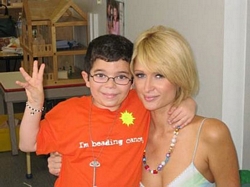 Paris Hilton spent time some time with sick children at the Children's Hospital in Los Angeles, before heading off to Churchill Downs.
She told RadarOnline.com: "I really love spending time at Childrens Hospital. I have worked with the hospital for the past several years. These children are such an inspiration. Its an honor for me to spend time with them. The families are so brave and I can't imagine having to endure what they are facing."
"My heart melts [when I see a] really sick child and after a few minutes they start smiling and laughing," she added.
Posted: May 1st, 2009
Comments: 2

From: thewaymouth
Time: May 1, 2009, 9:01 pm
Paris has such a sweet heart!
From: a paris fan
Time: May 3, 2009, 3:10 pm
Yes, she does have a good heart. She has been visiting hospitals recently. Maybe she is thinking of starting a family soon.