Paris Hilton visits Children's Hospital Los Angeles in LA
Reported by SFGate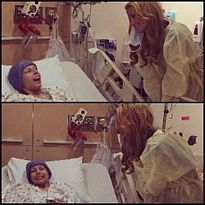 Paris Hilton surprised a sick fan by paying her a visit at her hospital bedside on Tuesday.
The socialite took time out to visit Children's Hospital Los Angeles and stunned a cancer sufferer, identified only as Christina, when she turned up on a ward to wish her happy birthday.
The star chatted and posed for pictures, which she posted on Instagram alongside the caption, "Made me so happy to surprise the #BirthdayGirl Christy258 today at ChildrensLA. Such an amazing feeling to make someone smile."
She then met other children at the hospital, adding, "Loved being with you all today at ChildrensLA. Sending everyone love & prayers that you all get better soon. Happy to see you all smile. Stay strong. Love always Paris."
Posted: January 8th, 2014
Comments: 1

From: Jen
Time: January 9, 2014, 10:36 am
People just do not realize how much charity Paris does, both for humans and for animals.
She does her good deeds mostly in silence.