Paris Hilton Will Sign Autographs In Montreal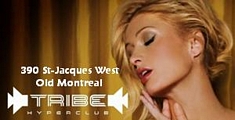 La Presse is reporting that Paris Hilton will stay at Saint-James hotel. Someone close to Paris has revealed that she will take some time to sign autographs for her fans! Bring her book and CD!
Already, there are many fans around Tribe HyperClub. Paris is expected to arrive at 11pm.
Montreal.tv will broadcast the event live from the club tonight.
Posted: September 23rd, 2007
Comments: none