Paris Hilton wins at 2009 Fox Realty Channel Really Awards
Last night, Paris Hilton won the Reality Innovator award at the 2009 Fox Reality Channel Really Awards!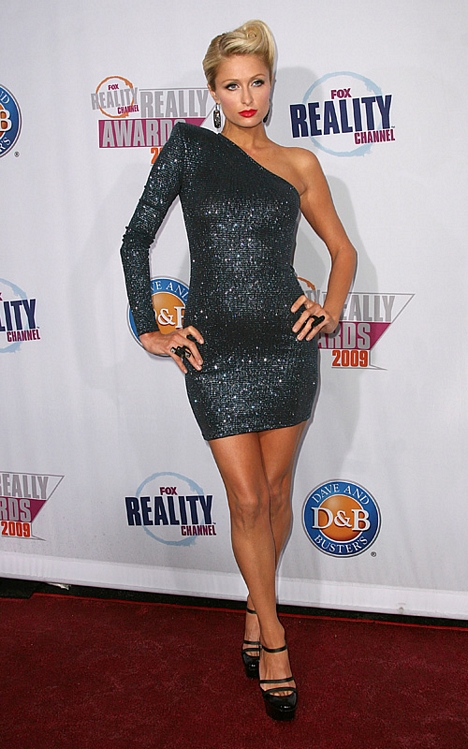 Posted: October 14th, 2009
Comments: 6

From: scot
Time: October 14, 2009, 8:12 pm
Hmmphhh. I really don't like this outfit. It's so.. harsh. Paris doesn't suit the Victoria Beckham look. I like her hair though.
Oh and it appears Paris will be in a new movie, she just tweeted " Just got done with the fitting with the stylist for the new Will Ferrell movie I'm shooting in NY. Excited! Will is my favorite comedian :)"
From: scot
Time: October 14, 2009, 8:16 pm
Considering it's being shot in New York, I'm going to put two and two together and say it's for "The Other Guys" which Will is starring in and is currently being filmed. Has a pretty damn good cast but no mention of Paris so I'm making the assumption its just a tiny cameo.
"The Other Guys is an upcoming 2010 action/comedy film directed and co-written by Adam McKay. The movie, set to star Mark Wahlberg, Will Ferrell, Eva Mendes and Michael Keaton, is expected to be released August 6, 2010.
…
Mark Wahlberg and Will Ferrell were seen in Chinatown, New York filming the movie. Also were spotted in the New Dorp section of Staten Island. Will Ferrell and Eva Mendes were seen in Albany, New York filming a chase scene."
From: JWB
Time: October 14, 2009, 11:57 pm
Paris looks pretty good to me, actually just perfect, again! Good to see her single, and with her sister!
From: Carter
Time: October 15, 2009, 4:55 pm
I think Paris looks great, I love the Lady Gaga look to it with the dramatic point in the shoulder
From: Dawn
Time: October 16, 2009, 9:23 pm
I like the evening dress look, the hairdo compliments the angular dress. Also, the color is stunning on Paris and the shoes are hot too.
From: simon
Time: October 17, 2009, 9:31 am
I think that PARIS looks totally stunning in this dress! So stylish, classy and BEAUTIFUL!!!! She is AMAZING!!!