Paris Hilton with new boyfriend in Corsica, France?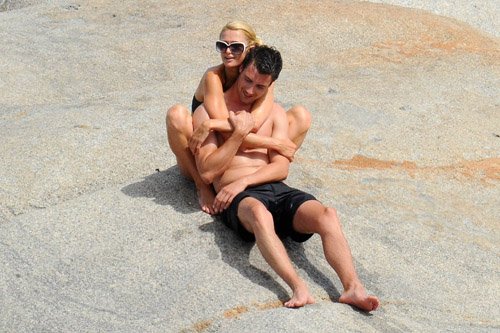 Posted: August 6th, 2012
Comments: 6

From: JWB.
Time: August 7, 2012, 2:56 am
Hey P, who is this guy? Or is this a photo shoot. You have fun, gorgeous. You deserve the best…….xoxo….
From: retrograde
Time: August 7, 2012, 1:35 pm
The episode Paris shot for Snoop Dogg's web series was finally uploaded to Youtube!
From: Dawn
Time: August 7, 2012, 3:52 pm
And there he is!
Many of us thought all along that Paris was hiding a boyfriend lol.
They look cute together.
All we know so far is that he is a successful business man and that Paris has known him for ages.
From: JWB.
Time: August 8, 2012, 12:49 am
'Known him for ages', so why hasn't he courted her before now? It would be impossible not to 'fall in love' with Paris, and he must have known where she was. Looking at the pictures, Paris seems the perfect girlfriend.
From: casey
Time: August 8, 2012, 6:15 pm
seems like a good match. Paris is doing right by not dating someone who is a public figure like she is
From: Dawn
Time: August 9, 2012, 9:33 am
Paris is smart to keep her private life private.
Gossip sites always try to break couples up or ruin their lives in various ways.
And with Paris, they often make stuff up.
Just a few weeks ago they had her supposedly lusting after Chris Brown lol.
And another one wrote that she was "prowling for a boyfriend" lol, it just never ends with these people.
Oh well, by now were used to it all. lol.