Paris Hilton's new obsession with hats
Paris Hilton, who plans to visit Kentucky Derby this weekend, has a new obsession: hats!
The Repo! actress told the media: "I think for [the] Kentucky Derby it's great to look for the hat first 'cause that's the accessory that you know, everyone is looking at. I'm gonna choose my hat before the dress because I think it's great to get a couple of different options of what you like — pick a couple of hats that might look great. And then later on I'm having a fitting tomorrow for my dress and I'll see how they look together." I sense a Paris Hilton Hat Collection Line!
"My boyfriend and I are going together with his entire family [to Churchill Downs], so it's going to be fun," she said. Churchill Downs is a thoroughbred racetrack most famous for hosting the Kentucky Derby annually.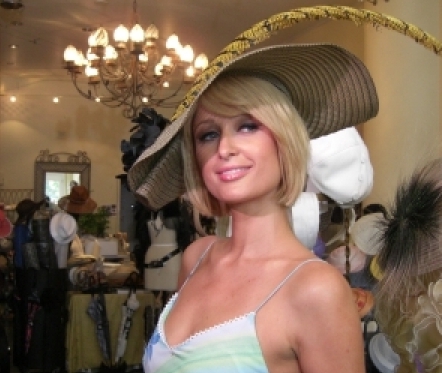 Posted: April 30th, 2009
Comments: 2

From: Werner
Time: May 1, 2009, 12:52 am
Great news! I'm always excited when Paris starts a new fashion line!
From: T.K.
Time: May 1, 2009, 5:00 am
That's a really weird hat. xD