Paris Hilton's tiny little dog from Calgary
Reported by CBC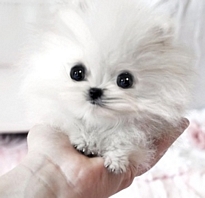 Joanne Pauze of Betty's Tea Cup Yorkies in Calgary has sold what she says is one of the world's smallest Pomeranians to Paris Hilton.
The male puppy was delivered to the former reality TV star at the Bowery Hotel in New York Friday night.
Pauze wouldn't confirm the price, but said the dog is worth $13,000.
"He's really quiet and extremely loving," said Pauze.
The dog is two-and-a-half inches long and stands just under two inches tall, according to Pauze.
Pauze said the dog, which she called Mr. Amazing, is a great lap dog that loves to be groomed and wear clothes.
The five-month-old dog weighs 11.6 ounces.
Pauze said Hilton found her company on Twitter before contacting her about the sale, which led to followup emails, texts and phone calls.
Hilton soon took to Twitter to announce her new arrival, asking if anyone had a name suggestion for the puppy.
Posted: September 12th, 2014
Comments: none