Paris Hilton's very own scrapbook!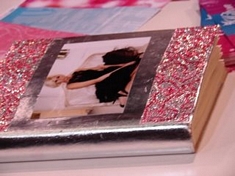 The text below is written by Allison Orthner, a scrapbooker who met Paris Hilton at the Craft and Hobby Association event. After having looked at Paris' very own scrapbook collection, she is convinced that the Repo! actress is a scrapbooker. Paris Hilton's Creativity collection is available in Canada and in some European countries, but they're still looking for a distributor in the United States.
Paris Hilton's new line of scrapbooking is geared for the tweens and teens and is very vibrant coloured with a huge dose of BLING! There has been much debate on whether or not Paris actually scrapbooks, but I must say, that I do indeed believe she does! Most of the press surrounding me were not actual scrapbookers… they were wanting to ask Paris about her hair, her dog and love life! But because I was in the front of the press box about 3 feet away from her (one of the benefits of being so short!) I noticed a book on the table and asked her if I could look.
She hesitated at first and then told me I could look adding that it wasn't really a scrapbook, but simply a place to keep assorted things she had collected from her travels for inspiration!
Read the rest of Orthner's comments here.
Posted: January 26th, 2009
Comments: 4

From: scot
Time: January 27, 2009, 6:11 am
As odd as this is, all this talk about Paris scrapbooking, its really made me interested in it.
That photo on the cover looks incredible. Should be used as the cover for her second album.
From: scot
Time: January 27, 2009, 9:53 pm
Paris and Lady GaGa
youtube.com/watch?v=pXU1Fp-DXFw
From: kevin
Time: January 27, 2009, 10:28 pm
If you go on this site, it proves that Are You With It was recorded and intended to go on the album! What a shame we still haven't gotten the song yet..
[Edited by admin]
From: admin
Time: January 27, 2009, 11:17 pm
I see it, but I remember when I asked her about the song, Paris told me that they hadn't finished "mixing" it.
I told her if she could release it as bonus single with the new album… Well, she was a bit hesitant.
I have to admit that back then, I wasn't sure if she was telling the truth about the song not being mixed. Afterall, the song seemed complete, and a music critic listened to the full version (unless if it was a short sample, unlikely)!
But I have a feeling that we're never going to have it. She's not working with Scott anymore, and she's taking a new direction with her music.
It really sucks. Of all songs, I want Are You With It!