Paris Hilton's volunteer work at the Animal Foundation shelter
Reported by Las Vegas journalist Robin Leach (edited version)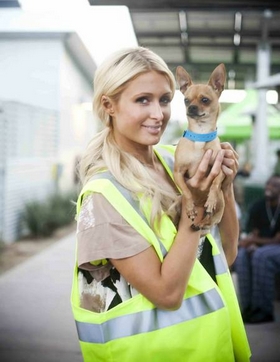 Pop culture icon Paris Hilton took on an altogether different role this week: She got down — and dirty — caring for abandoned and lost animals at our Animal Foundation shelter. She's the newest celebrity face at the campus!
Paris was hands on and asked for no special treatment or favors. She was on her knees cleaning up behind the dogs and carrying out their pooper-scooper droppings. The multi-millionaire hotel heiress, actress, singer and entrepreneur cleaned out kennels in addition to feeding the animals, providing clean water for them and distributed blankets to keep the animals warm.
Instead of a Chanel gown or Louboutin stilettos, it was sneakers and sweats for the blond beauty. She volunteered at similar charities in L.A. last month and for the Hollywood Beautification Team. Ahead of traveling here, she asked The Animal Foundation if she could become a volunteer.
"We were thrilled. We are so excited that Paris decided to perform some of her 200 hours of community service with our shelter," said Andy Bischel, director of development at The Animal Foundation. "She loves animals, and after she toured our facility and learned about some of the shocking animal statistics, she was inspired and motivated to help make a difference. She had tears in her eyes."
"Paris is an incredibly influential and popular individual. We're confident that by adopting a neutered dog from our facility shelter, she'll fuel a movement not only to choose the adoption option when looking for a new pet, but also to spay or neuter pets," Andy said. "With such stars as Paris and Holly Madison backing our mission and supporting our programs, we have an amazing opportunity to save unwanted animals and reduce their numbers."
"I truly love and care for animals," Paris told VegasDeLuxe.com. "They mean the world to me." TV cameras for her new Paris Hilton reality TV show filmed her time at the private, nonprofit, multi-service agency dedicated to making a difference in the lives of animals in the Las Vegas Valley.
Posted: December 19th, 2010
Comments: none