What Happened Between Paris Hilton and Britney Spears?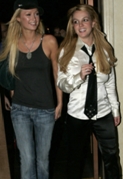 Their short friendship lasted for about a month, and it all started in late Fall 2006.
Right after, Britney Spears divorced Kevin Federline (K-Fed), she was photographed partying and hanging out with Paris.
The moment when pictures and videos of them together appeared on the internet, it caused a huge buzz in Hollywood, and the media were all over it. But it was only the beginning!
In the beginning, Paris and Britney seemed to be very good friends, but no one really imagined that the two would hang out and be photographed with each other almost every day.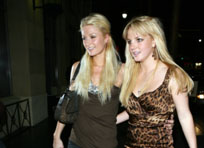 It was obvious that Britney was tired of living with Kevin and didn't want to miss everything that was happening around her. No one exactly how Britney approached to Paris and decided to spend some time with her, but one thing was for sure, she had found the right person to party with! However, back then, Perez Hilton posted on his blog that it was music producer Scott Storch who brought the two together. There was even a report that stated that Paris and Britney were going to go to the studio and record a few songs with Scott, but it probably never happened.
Paris was the biggest party girl at that time and was extremely popular as a celebrity. If Britney wanted to get back to the Hollywood scene, it would make perfect sense to hang out with Paris. Even some of Britney's fans thought that Paris would help her comeback enormously, and they were happy about it. Of course, there were also a few fans who didn't want her to anything with Paris and believed that Paris would be a bad influence to her.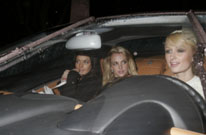 Their relationship was very powerful, and the media was all over it. You should also take note that it wasn't the first time that Paris and Britney met together. They both seemed very into each other, almost to a point where one could say that they were in love, judging from the pictures. And indeed, many believed that they were more than just friends. But it's only a speculation…
But things started to crumble when Britney suddenly went out of control. A huge wave of criticism and attacks brought their relationship down. Britney was often photographed without panties, and she was also seen drunk and very exhausted at times. The paparazzi would notice her panty-less without underwear and unfortunately, they would take the advantage of photographing her private parts. This caused a huge storm of outrage. It almost became a scandal, and people were very shocked.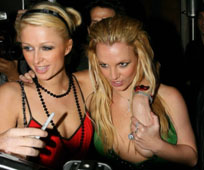 A lot of Britney fans obviously blamed it on Paris. Many of them were very disappointed and angered that some of them regret of being a fan of her. Eventually, Paris and Britney broke up, and weren't seen together anymore.
There are a lot of speculations as to why they ditched one another. One thing we know is that Paris wouldn't intentionally cause any trouble. That's simply not in her nature if you know her well. In fact, she has always been a huge fan of Britney, and often blasts her songs while driving.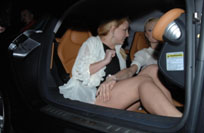 But many articles suggested that Britney was forced to take a distance from Paris because it was ruining her career. During their relationship, Billboard Music Awards had approached them and asked them to host their show together. Initially, they both agreed, but then Britney dropped out of the agreement without any explanation.
There isn't any clear explanation as to what exactly happened between the two, but it's clear that they're not friends anymore. Even when Paris had a Christmas party at her house, Britney wasn't invited.
A few months later, Austrian socialite Richand Lugner, who has close contacts with Paris, confirmed to the media that there definitely is a rift between Paris and Britney. Although, he didn't give any explanation, he only said "they unfortunately do not get along anymore."