Paris the Watch Designer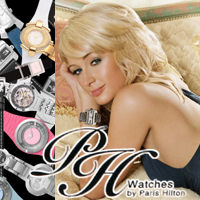 Though her career started in modeling, Paris can be seen on both the big and small screen. Paris's career continues to evolve with exciting and challenging projects. She has already published her first book "Confessions of an Heiress: A Tongue-in-Chic Peek Behind the Pose" and continues to be the face of Guess?.
Her projects have also included a Rock/pop album, a jewelry line at Amazon.com, opening of her own 'Club Paris' and her own fragrance called 'Paris Hilton'. Her entire line of watches simply called 'Paris Hilton' can be seen here at ParisHiltonSite.net.
Click Here for the U.S. version of Paris Hilton's Watch Line.
Paris Hilton U.K. Watches Sold Exclusively By Amazon.co.uk
Amazon.co.uk has exclusively secured Paris Hilton's new range of watches to mark the launch of its new Jewellery & Watches Store, which is now open at Amazon.co.uk.
The Jewellery & Watches store features 27 watches from the new Paris Hilton range, priced from £50 to £95, which are being sold exclusively in the UK by Amazon.co.uk throughout May. Ms Hilton describes the watches as 'affordable yet stylish and modern' and they are expected to be amongst the best sellers at the new store.
In addition to the Paris Hilton range, Amazon.co.uk customers are now able to choose from thousands of items of jewellery and watches including top brands Rotary and Diesel, as well as new and exciting offerings such as Axcent of Scandinavia, J Springs by Seiko Instruments, Freiderick Stein, Krug Baumen in watches and Breil, John Rocha, D&G Jewels and Hot Diamonds in jewellery.
Parlux
Parlux Fragrances, Inc. is a manufacturer and international distributor of prestige products. It holds licenses for Paris Hilton fragrances, watches, cosmetics, sunglasses, handbags and other small leather accessories in addition to licenses to manufacture and distribute the designer fragrance brands of Nicole Miller, GUESS?, Jessica Simpson, XOXO, Ocean Pacific (OP), Maria Sharapova, Andy Roddick, babyGund, and Fred Hayman Beverly Hills.
2005 Paris Hilton Launches Her Watch Line
2007 Paris Hilton Launches Her Watch Line at Baselworld
Special Thanks