Paris Hilton VS Shanna Moakler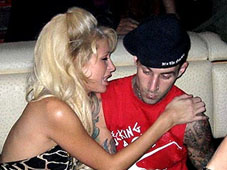 On October 4, 2006, at Hyde nightclub, Shanna Moakler allegedly attacked Paris Hilton by hitting her in the jaw. Shanna reported that Stavros, Paris' ex-boyfriend at that time, poured a drink over her head and shoved her down stairs. Paris said that Shanna came up to her and started shouting profanities against her and then struck her in the jaw. She also claimed that the attacked was unprovoked. Several people were seen escorting her out of Hype. Though, it should be noted that Paris didn't touch Shanna.
This event did cause a media circus and it was widely publish. Many haters were content by this news, but the reason as to why Shanna hit Paris wasn't always asked. Of course, there's a reason as to why Shanna would hit her, and maybe, a lot of people already knew why.
What Shanna did to Paris may have been illegal and dangerous, but let's understand why it happened.
A couple of weeks ago before this incident happened, Paris and her Shanna's ex-husbant Blink 182's heavily tattooed Travis Barker were seen French kissing with each other. It actually happened several times and in fact, many people thought they were in love.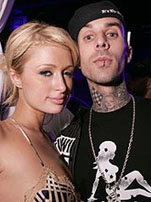 Now kissing or French kissing doesn't necessarily mean being love according to Paris, and this is true for her. She has said in the past that she does kiss guys, but only for fun. At that time, Paris tried to avoid the media and possibly denied that she was in love with Travis. But the love story last for a couple of weeks.
Well, at the same time, Shanna started hearing rumours about Paris and Travis dating with each other and was convinced that Paris "stole her man." But you know, Travis LEFT Shanna and didn't want to be with her. Travis asked for a divorce and didn't want to know anything about her.
Shanna, obviously and like most girls would do, blamed all her problems on Paris, instead of on… Travis.
Before all of this happened, it's interesting to note that Shanna and Paris were actually friends. They never really hanged out with each other, but they knew each other. Believe or it, Shanna even came to one of Paris' album release parties and commented on how much she liked Paris' debut single, "Stars Are Blind" and wanted to dance to the single.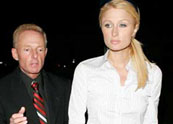 But clearly, she turned in rage against Paris when she saw her kissing her ex-husband and probably figured that Travis wanted to be with Paris. The story is quite crazy, but Paris never planned to be fully in love and go out with the guy.
After the hitting incident happened, Paris requested restraining order against Shanna at the LAPD's Hollywood Division, and so did Shanna, but against Stavros. However, a few days later, one of Shanna's friend who claims to be a witness defended Shanna and argued that she did not hit Paris. Even Shanna, when contacted, denied that she hit Paris. But of course, no one really believed the two and so the story was quickly dropped.
Paris' publicist, Elliot Mintz had this to say about the incident: "I would encourage Paris, with the consent of her attorney, to seek a restraining order against Moakler to prevent any escalation of this irrational and dangerous behavior."
And of course, it's was a very smart move from Paris' part to not react to Shanna's attack physically, and people should have give Paris credit for that. However, back in 2001, Paris did admit to an interviewer that she has hit and embarrassed a girl who was trying to steal or flirt with her man. And everyone does expect that from Paris, especially when she was younger. One thing you should know is that she is very strict with boyfriends, and she never allows anything to come in her way. We've seen this attitude from many times when she's in a relationship.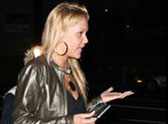 Here's what she said in an interview with FHM: "This girl looks at my boyfriend. She's like, 'Oh, are you a soccer player?' 'cause he had a soccer shirt on. It pissed me off. I'm like. 'Get the hell away from him.' I pushed her and she fell on her ass on the floor. She sat there crying. She kept coming back like, 'I'm so sorry.' She kept trying to apologize. I'm like, 'Get away from me. Talk to the hand.' She was so desperate."
Back to the Paris VS Shanna case. Travis never remarried Shanna again, but he is still good friends with Paris, and they often hang out with each other. However, there's no more kissing in their relationship. When the paparazzi asked Travis to comment about Shanna, he simply said that Shanna is jealous of Paris and has always been. Maybe not before he and Paris started kissing, but certainly after Shanna saw pictures of him together with Paris.
The next day, he was actually seen with Shanna, and it had appeared that there was peace between them, but they still remain split. It's still not clear whether or not Shanna and Paris are cool with each other. But the whole problem is now history.