Picture: Paris and Nicky Hilton attend the 2012 MTV Movie Awards in Universal City, California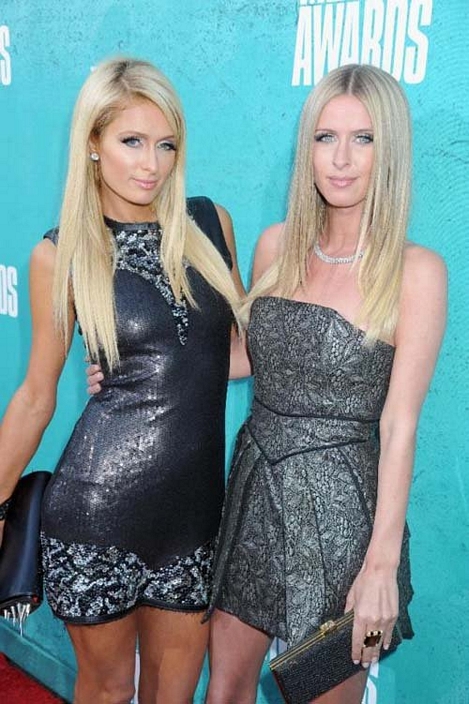 Posted: June 3rd, 2012
Comments: 8

From: Jen
Time: June 4, 2012, 11:07 am
Paris and Nicky look stunning in their color-coordinated dresses by designer Marco Squared !!
From: Carter
Time: June 4, 2012, 11:31 am
So the single will not be dropping tomorrow. "my single will be out in the next couple weeks" Paris said last night on the red carpet, the typical response we've been used to these past 6 years lol
From: retrograde
Time: June 4, 2012, 5:35 pm
Paris confirmed to CNN that her single will debut in three weeks at her DJ event in Brazil, so there we have it. A bit disappointing, though not really surprising. Just have to wait until then.
From: Jen
Time: June 4, 2012, 6:09 pm
So it was a day full of good news for Paris.
She settled the lawsuit in her favor with the Italian lingerie maker.
In fact, it looks like she added them as her 18th line.
And now we know when the new song will drop.
Exciting and wonderful times for our favorite celebrity!
From: admin
Time: June 4, 2012, 7:43 pm
Never never ever was there any confirmation that the single will be out tomorrow. Paris shouldn't be held responsible for false rumors. It is the public's fault if they believe everything they read from unreliable sources.
From: scot
Time: June 4, 2012, 10:42 pm
oh well at least we know now. June 23rd. Can't blame me/others for wanting to believe June 5.
From: retrograde
Time: June 5, 2012, 4:40 am
Well, Paris was definitely aware of those rumors (as were, I imagine, LMFAO and Ryan Seacrest) so I think she has to take some responsibility for failing to debunk it. But oh well. Just gotta figure out how to get through the next three weeks xD
From: Jen
Time: June 5, 2012, 4:05 pm
I agree with admin. on this.