Picture: Paris Hilton enjoys the beach in Miami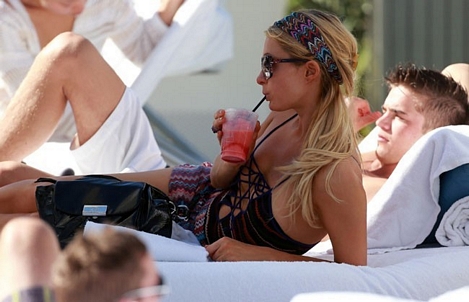 Posted: December 9th, 2012
Comments: 12

From: JWB.
Time: December 11, 2012, 9:25 am
Watching these two, which is enjoyable and a lot of fun, I do not see Paris really 'in love'. Having watched beautiful Paris since 2003, she is very expressive. And as a 'hardcore fan', I wonder where this is going.
From: JWB.
Time: December 11, 2012, 9:32 am
The picture above, sort of says it all. JWB.
From: Dawn
Time: December 12, 2012, 9:13 am
Someone raised him well. He is very polite, just like all the Hiltons, so he fits right into the family.
He also comes across as very mature and Paris has a very young outlook – so they are well matched.
I think River will do right by Paris.
From: JWB.
Time: December 13, 2012, 12:38 am
Hey Dawn, when you check 'Images' of RV, the pictures are interesting, to say the least. 30 seconds is too much for me. The pics are all super gay. So what do you think?
From: Dawn
Time: December 13, 2012, 2:03 pm
LOL His good looks appeal to both sexes but no, I don't think he is gay.
I like him for Paris.
Of course, it's her life and we cannot tell her how to live it. No matter who she picks.
From: JWB.
Time: December 14, 2012, 1:38 am
Dawn, my last comment on these two. Paris is not 'in love' in the real sense with this guy. And the pics at Zimbio and X17, show this dude looking like 'the cat that got the cream' not the way to treat the most beautiful girl ever. He usually pays no attention to his dress, the opposite to Paris. I would bet a million dollars, this will only last until Paris finds someone better. I am a 'hardcore fan'. Maybe the last of the mohicans, sad ah. Love you P xoxo…..
From: retrograde
Time: December 14, 2012, 5:16 am
JWB, people who get jealous of celebrities' relationships because they actually think they have some sort of shot at being with them are delusional and sad. You don't know Paris. You have no idea about whether or not she's really "in love" with River. She certainly seems very happy with him so stop being so petty and pathetic.
From: JWB.
Time: December 14, 2012, 10:43 pm
Hey retro, your pathetic. PHS welcomes comments on our 'Princess', that is what this site is all about. It is a friendly forum, for those who care.
From: retrograde
Time: December 15, 2012, 5:56 am
Except you're not commenting on Paris, you're making bitter, jealous, unfounded, and rude remarks about her boyfriend. It would be one thing to say, "This guy gives me weird vibes. I think he might be a user," but to go on and on about the age difference, his looks, and calling him gay are ridiculous and childish. You'll never be with Paris so stop hating on the guys who are.
From: JWB.
Time: December 15, 2012, 8:36 am
I give up retro, all that stuff re age and looks, I have never said. See ya.
From: Jen
Time: December 18, 2012, 9:30 am
He seems like a nice man. And the Hiltons like self-made men who are ambitious.
Did you see on her twitter that they double-dated with her parents?
I think it's cute.
As long as he does not do anything underhanded, Paris will love him.
But if he ever cheats or something like that, he will find himself kicked to the curb with her stiletto up his butt.
I think Paris learned that from her father and grandfather in business – dishonest people get no second chances.
Good for Paris!
From: P Fan
Time: December 19, 2012, 9:01 am
The media keeps saying, this guy is her 'lover', what does that mean?