Paris Hilton's Platinum Fragrance

"This fragrance speaks to my own romantic fairy tale, and the culmination of my personal journey to celebrate life with my best friend and soul mate." - Paris Hilton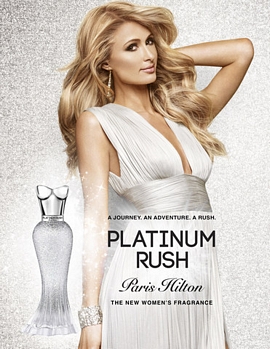 Paris Hilton announces the launch of her 24th fragrance, PLATINUM RUSH. Hilton's latest scent innovation is available for pre-sale exclusively on the Perfumania website on July 16, 2018 prior to its official launch at Perfumania stores nationwide on July 17, 2018.
Hilton celebrated the release of her newest fragrance at an exclusive debut and DJ appearance at The Pool After Dark at Harrah's Atlantic City. Attended by thousands of guests, the pre-launch celebration marked Hilton's final US DJ engagement prior to her European Platinum Rush Tour kicking off in Ibiza.
Platinum; the universal symbol of true love, rarity and strength, is the inspiration behind Hilton's newest fragrance and the third women's scent in her bestselling "RUSH" collection. The sparkling Floral-Fruity fragrance reflects Hilton's passion for sharing "the rush" of love through the power of scent.
"Platinum Rush is very special to me, as it will forever mark a time in my life when I found my true love. This fragrance speaks to my own romantic fairy tale, and the culmination of my personal journey to celebrate life with my best friend and soul mate," said Hilton.
The Platinum Rush Fragrance
Created in collaboration with Firmenich Perfumer, Frank Voelkl, the fragrance opens with the sparkling vibrancy of crisp Asian Pear, perfectly ripened Red Apple and juicy fresh Mango. The heart of the fragrance mixes wet green florals with the feminine delicacy of Muguet Flowers and a natural Sunburst Magnolia. As the scent evolves, the base brings a tantalizing mix of sophistication and sensuality with Cashmere Musks, Sheer Patchouli, Liquid Amber and Vanilla Bourbon, creating a lasting memory.
"Platinum Rush represents the rush of an endless romance as Ms. Hilton has now found her happily ever after. Her engagement ring is the perfect symbol of enduring love with its infinite loop of platinum and sparkling diamonds which served as my inspiration," said Voelkl.
Purchase Platinum Rush Online
Buy Platinum Rush from any of these reliable online stores:


Special Thanks
Parlux Fragrances (Producer of Paris Hilton's perfumes)