Pre-Order Simple Life 5 Goes To Camp DVD
BREAKING NEWS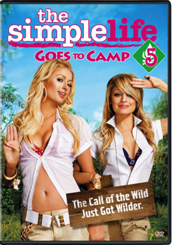 Tvshowsondvd.com was first to leak the cover of Simple Life 5 DVD. This one is really nice, don't you agree? I think it's better than the DVD cover of Simple Life 4.
So you can finally pre-order the DVD version of the final season of this great TV show. I'm not a big fan of this season as you know, but I think it's worth to collect all the DVDs. Simple Life is truly my favourite TV show of all times, and it's what made me a fan of Paris. I'm sure the same is true for many of you.
You can pre-order Simple Life 5 DVD from Amazon. It will be out on January 22, 2008.
I've sent an email to all subscribers.
Posted: October 14th, 2007
Comments: none