Paris Hilton as a Role Model?
"I think I am a good role model" - Paris Hilton
[NOT OFFICIAL VERSION]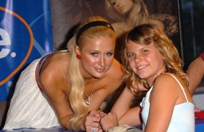 Paris' message has always been that if you work hard in life, you can achieve your dreams. All it takes is for you to believe in them and to hard work. And she has proven this with all her great achievements. Ever since she was a kid, she wanted to become an entertainer, make her own money and build her own empire like her great-grandfather, Conrad Hilton, did. It's probably in her blood, too. She has her own separate business from her parents and her grandfather, Barron Hilton, who currently owns the Hilton Hotels. Her goal is world dominion, and she works for it almost every day. Her work is to tour all over the world and promote the Paris Hilton brand.
Self-Confidence
Another quality that Paris promotes is "self esteem."[CONTINUE]