Simple Life (2003 - 2004)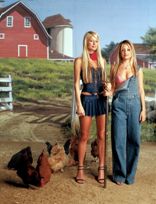 The first season of the Simple Life is about taking two wealthy young women (Paris Hilton and her best friend, Nicole Richie) out from their upper-crust Los Angeles to an Arkansas farm to prove that they can survive without their cell phones and credit cards. As an hotel heiress, Paris Hilton and daughter of pop star Lionel, Nicole Richie, move in with a farm family, the Ledings. Immediately, the culture clash becomes evident when the grandmother asks the girls to pluck chickens, Nicole says "I'm not plucking anything but my eyebrows." In order to make money, they try to work a series of jobs at a dairy farm, at a fast-food joint and at a livestock auction, but they fail miserably because they don't have a jot of work ethic or any sense of the consequences of failure.
The show had an astonishing success. When the first episode aired, 13 million viewers tuned in to FOX to watch Paris Hilton and Nicole Richie live the simple life. For a 30 minutes show, the ratings were so great for FOX that they ordered more episodes and so, Simple Life 2 was aired in summer 2004.
Interesting facts
Originally, the producers of the Simple Life wanted Nicky Hilton, Paris' sister, to star in the show, alongside with Paris, but she refused. Then, Paris asked her best friend, Nicole Richie, to join her, and she agreed to.
It was the Simple Life that launched Paris Hilton's successful career in Hollywood. However, before the show aired, Paris was already very popular, especially in New York City. At that time, Paris was a mostly a young "party girl." She had already done many photo shoots for magazines, and she also was a model.
It is important to point out that Paris Hilton and Nicole Richie are only acting for the camera in the show. The Simple Life is labelled as "Reality TV", but everything you see in the show isn't necessarily real. The acting was required in order to make the show funnier.
More Americans tuned in to watch an episode of Simple Life than an address to the nation by the president of the United States, Bush.
Simple Life DVD
DVD Features:
Available Subtitles: English
Available Audio Tracks: English (Dolby Digital 2.0 Stereo)
Seven episodes on one double-sided disc
Simple Life test presentation
Outtakes: Paris and Nicole Pack for the Trip, The Taxidermist Job, Shopping at Buffalo Bill's Store, Can Opener, The Vet
Purchase Simple Life DVD from Amazon.com
Simple Life Promotional Pictures
Simple Life Bon Voyage Pictures
Simple Life Stills