Simple Life 3 (2005)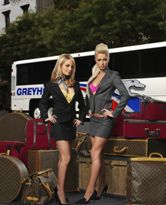 This time they're tasked to be interns and actually work at places like a plastic surgery clinic, an airline, a mortuary, a nursing home, an automotive shop, etc. Like season one and two, it's all set up be an embarrassment for the employers and host families they stay with. The families were generally fun and exciting, except for some who were actually dull. The funny scenes of Paris Hilton and Nicole Richie weren't as good as in the first and the second seasons, but nevertheless, they were always enjoyable to watch. In this season, they've changed the narrator to a "less serious" and more like an unfunny one. There are two particular episodes that stand out in this season: "Zoo" and "Ad Agency". The "Zoo" episode that was shot in Baltimore is really hilarious! The family they stayed with is very funny. You should check it out. The "Ad Agency" episode that was shot in Florida has the same effect. This one resembled a lot to the episodes of Simple Life 2, of course, because it was filmed in warm Florida.
The problem with the Simple Life 3 is that the season was shot in fall. Many fans didn't really think that you can film this show during a cold season, but we then learned that they were in a hurry.
Before the final episodes were aired, Paris had already announced that Nicole and she were no longer friends anymore. Perhaps, the saddest scene of the Simple Life series was in the finale episode of the Simple Life 3, where FOX and Bunim/Murray Productions give a special tribute to Paris' and Nicole's great friendship with gathered clips of Paris and Nicole and with the song "Lucky To Know You" sang by Blue Merle played in the background. Regardless if it was a sign of the end of Paris and Nicole's friendship, it sure shed a few tears from hardcore fans.
More than 10 episodes were filmed during the production of the Simple Life 3 and so season three lasted from January 2005 to May 2005.
Simple Life 3 had a successful start, but mostly because it was lead-in by American Idol. It had steady ratings until it started to go down a bit. It definitely wasn't the most successful one, probably because of the lack of seriousness of the show, but it was still good enough for a fourth season.
What did Paris think of Simple Life 3: Interns?
"I loved working at the day care center because I love kids. I hated changing their diapers, though. It was gross. I mean, if they were, like, family, it would have been different, but I didn't even know them. We had to work at a morgue. I hated that. I hate dead people. We had to work as zookeepers. That was a lot of fun. You get to feed the giraffes and see the rhinos and zebras."
Ratings
Episode 1: 13.4 million viewers
Episode 2: 13.4 million viewers
Episode 3: 8.6 million viewers
Episode 4: 8.86 million viewers
Episode 5: 8.3 million viewers
Episode 6: 12.89 million viewers
Episode 7: 13.7 million viewers
Episode 8: 13 million viewers
Episode 9: 7.8 million viewers
Episode 10: 7.4 million viewers
Episode 11: 6.06 million viewers
Episode 12: 6.4 million viewers
Episode 13: 6.4 million viewers
Episode 14: 3.5 million viewers
Episode 15: 4.2 million viewers
Episode 16: 4.2 million viewers
Episodes
Mechanics
Secretaries
Airline
Mortuary
Plastic Surgery
Broadcasting
Daycare
Zoo
Bakery
Psychic
Nursing Home
Ad Agency
Fire Fighter
Manufacturing
Wedding Planner
Dentistry
Interesting facts
Unlike Simple Life 2, it is unlikely that Paris Hilton and Nicole Richie travelled by bus all along the production because the show was often interrupted. Pictures of Paris and Nicole were still being posted on lime-light.org while they were filming the show.
The show makes you believe that Paris Hilton and Nicole Richie travelled till Flordia by bus, but this is probably not untrue, partially because of the reason we stated above.
After the Wrap-Up Party of Simple Life 3, the producers of the show asked Paris and Nicole to film additional episodes that included Wedding Planner and Dentistry.
When Paris' Sidekick got hacked, private e-mail messages concerning the show between the producers of the show and Paris were also released.
Simple Life 3: Interns DVD
DVD Features:
Available Subtitles: English, Spanish
Available Audio Tracks: English (Dolby Digital 2.1 Surround)
16 episodes on 2 discs
Purchase Simple Life 3: Interns DVD from Amazon.com
Simple Life 3 Promotional Pictures
Simple Life 3 Welcome Home Party Pictures
Simple Life 3 Stills