Simple Life 4 (2006)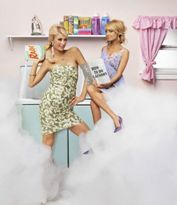 To keep the show going on, the producers of the Simple Life came up with idea of changing the format from having the pair traveling around together to make them become housewives. Paris Hilton and Nicole Richie stay separately with various families from different cultures around Los Angeles. In these people's homes, they take turns by playing the role of the wife and running households. Then, the family each week decide which one of the girls did a better job.
Simple Life 4 suffered from many problems. As you know, Paris and Nicole weren't friends at that time and so, they were filmed separately. Before the show aired on E!, Paris had assured her fans that this season would be funniest of the series. However, most people agreed that season four was the worse, mainly because it wasn't as fun and funny as it used to be when they were filming together. Most Simple Life fans agree that filming them separately simply doesn't work in this show.
But despite this problem, the first episode of Simple Life 4, which aired in early summer, brought very good ratings for E!, and there was a lot of fuss about it on the internet and television. However, after a few weeks, the excitement calmed down as people realized that it wasn't so good after all.
Interesting facts
Originally, plans were to shoot the duo on the Hawaiian island of Maui. This idea possibly came from Paris.
Kimberly Stewart was supposed to replace Nicole Richie. Paris tried to persuade the producers to accept her decision, but they strongly refused. Nicole Richie was still in contract.
Fox cancelling the Simple Life series because they thought that the show won't work anymore since Paris and Nicole weren't friends, but it was soon picked up by E!.
In only two episodes, Paris and Nicole were filmed together, the first and the last one, but they didn't talk much with each other.
A lot of people were waiting for the season to end because they were excited for the last episode in which Paris and Nicole were in the same room confronting with each other with words.
Networks, such as NBC, The WB, VH1 and MTV were all fighting to obtain the rights to the show, but in the end, E! won.
Simple Life 4: Till Death Do Us Apart DVD
DVD Features:
Available Subtitles: English, Spanish
Available Audio Tracks: English (Dolby Digital 2.1 Surround)
10 episodes on one disc
Purchase Simple Life 4 DVD from Amazon.com
Simple Life 4 Stills